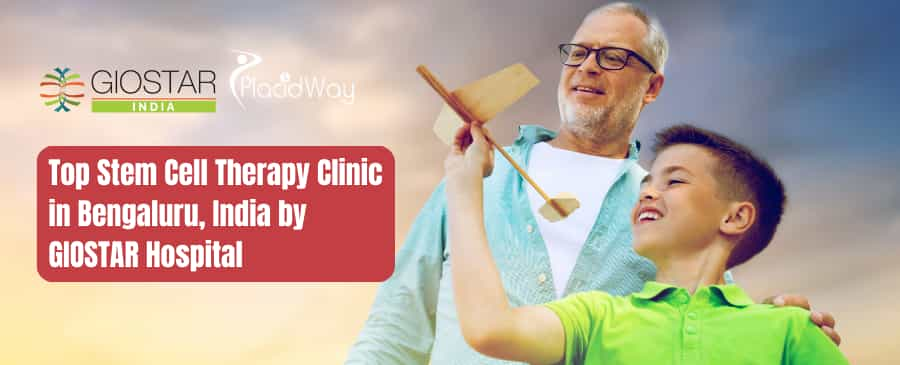 GIOSTAR Hospital Begaluru: Leading the Way in Stem Cell Therapy, Bengaluru, India
GIOSTAR Hospital in Bengaluru, India, is at the forefront of regenerative medicine, offering cutting-edge stem cell treatments for a diverse range of medical conditions. Our expertise shines when tackling complex issues such as cancer, autoimmune disorders, degenerative arthritis, and neurological ailments. Patients from around the world experience significant improvements in their quality of life through our innovative stem cell therapies, as our commitment knows no borders.
Revolutionizing Healthcare with Innovative Regenerative Therapies in Bengaluru, India
GIOSTAR Hospital is redefining the landscape of healthcare in vibrant Bengaluru, India, by leading the way with groundbreaking stem cell therapies. Our commitment to pushing the boundaries of medical possibilities is evident in our extensive treatment portfolio, covering conditions from diabetes and liver disease to Alzheimer's disease and spinal cord injuries. Whether it's relieving chronic pain, offering hope for life-threatening diseases like cancer, or enhancing the lives of those with degenerative conditions, our innovative therapies demonstrate the remarkable versatility of stem cells.
GIOSTAR Hospital: Where Pioneering Medical Excellence Thrives
At GIOSTAR Hospital, we seamlessly blend pioneering medical excellence with the vibrant spirit of Bengaluru, India. Our dedication to providing the highest standard of care is validated by prestigious certifications from the Department of Health and Family Welfare Services and the Karnataka State Pollution Control Board. These certifications reflect our unwavering commitment to ethical and sustainable biomedical tissue management, ensuring the utmost safety and integrity in our therapeutic approaches. Patients in our care can trust our team to uphold the highest medical standards.
Meet Our Team of Experienced Stem Cell Specialists in Bengaluru, India
GIOSTAR Hospital's core strength lies in the exceptional individuals who make up our seasoned team of stem cell specialists in Bengaluru, India. Guided by Dr. Darshan S. Angadi extensive experience in trauma and orthopedics and Dr. Nagaraj specialization in diabetes care, our team possesses a wealth of knowledge and expertise in stem cell therapy. These specialists are not only medical practitioners but also passionate advocates for the transformative potential of stem cell technology in healthcare.
Cutting-Edge Facility for Your Path to Wellness
GIOSTAR Hospital takes pride in offering patients a state-of-the-art facility in the heart of Bengaluru, India. Our commitment to providing top-quality care goes beyond our regenerative medicine medical team's expertise, encompassing every aspect of our institution, from advanced technology to patient-centered environments. Inside our walls, patients can expect the latest diagnostic tools, treatment modalities, and supportive infrastructure. We recognize that the journey to wellness begins with the right tools and environment, and our state-of-the-art facility lays the foundation for your path to recovery and well-being.
Patients First at GIOSTAR Hospital
At GIOSTAR Hospital, patients are not just cases; they are the essence of our institution. We understand that every individual seeking our care brings unique needs, concerns, and hopes. Our patient-centric approach is built on this profound understanding. We prioritize patients through compassionate care, personalized treatment plans, and unwavering dedication, aiming to provide the best possible medical outcomes and a sense of support, understanding, and comfort throughout their healthcare journey.
GIOSTAR Hospital: Pioneering Stem Cell Research in Bengaluru, India
GIOSTAR Hospital has established itself as a pioneer in stem cell research in Bengaluru, India. Our research team consists of international leaders in adult stem cells, embryonic stem cells, and induced pluripotent stem cells (iPSCs). We have been instrumental in demonstrating the potential of embryonic stem cells for therapies targeting degenerative diseases affecting various tissues and organs. Our groundbreaking research is rigorously investigated and documented in esteemed medical journals, paving the way for future clinical therapies.
Advancing Healthcare Through Stem Cell Technology in Bengaluru, India
GIOSTAR Hospital remains committed to advancing healthcare through the power of stem cell technology in Bengaluru, India, providing hope and healing to those in need. We continue to lead the way in cutting-edge research, translating scientific discoveries into practical solutions for the benefit of patients worldwide. Click the "Contact Us" button below to book your consultation today: