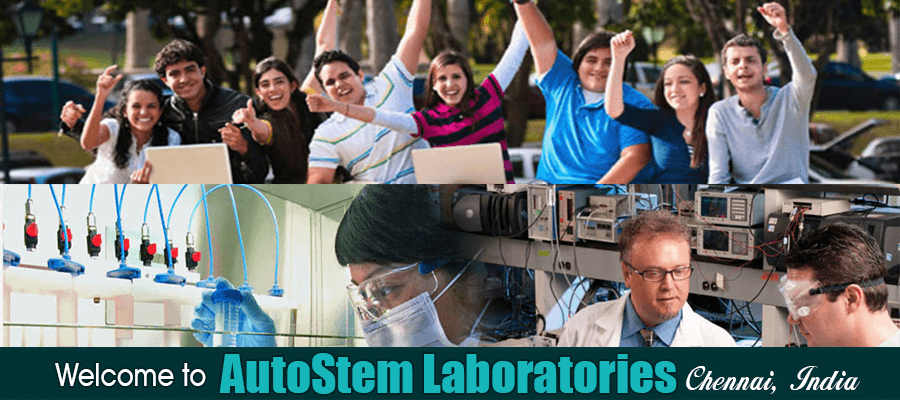 Effective Stem Cell Therapy at Auto Stem Laboratories in Chennai, India
Auto Stem Laboratories (ASL) is located in Chennai, India. It is a stem cell research center that offers effective and quality Regenerative Medicine, Cancer Stem Cell Treatment and Organ bioengineering in Chennai. ASL team provides the world-class services fully customized for therapeutic requirements and unique research. The excellent team of research specialists and scientists at ASL center are constantly striving for advanced services and innovative applications that suit the sensibilities and needs of research, academic and medical fraternity. 
Auto Stem Laboratories offers the state-of-the-art regenerative therapy to various health conditions. The experts at ASL use stem cells from different sources such as tissues, bone marrow, cord blood or peripheral blood. Their effective stem cell therapy can be useful for neuro disorders like Parkinson's Disease, Alzheimer's and Motoneuron diseases along with Spinal Cord injury, Liver disorders, Infertility, Arthritis, Diabetes, Autoimmune and Inflammatory disorders. 
Advantages of Choosing
Auto Stem Laboratories
for Regenerative Treatment in
Chennai, India
Here are the benefits of choosing Auto Stem Laboratories stem cell clinic in Chennai, India: 
Cost-effective treatments

 

Advanced technology and equipment

 

Highly skilled stem cell doctors

 

Comfortable stay in modern facilities

 

Quick and relaxed recovery in peaceful ambient

 
Cost of Stem Cell Treatment at ASL
in Chennai India
Thousands of patients worldwide choose Stem Cell Therapy in India at ASL center to save money on expensive treatment back home. You will find low-cost Regenerative Medicine treatments for your specific condition in Chennai top center. For the latest prices at ASL clinic, contact the clinic directly or our Customer Care Team. 

List of Regenerative Treatments at ASL clinic in Chennai, India:
Regenerative Stem Cell Therapy

 

Cosmetic Stem Cell Therapy for baldness, hair loss, skin scars, vitiligo and unhealing wounds

 

Cancer Stem Cell therapy

 
Stem Cell Specialist in Chennai India at ASL Clinic
Dr. A. Anand Kumar is among the best stem cell doctors in India. He works at Auto Stem Laboratories providing safe and effective regenerative treatment to local and international patients. 
Dr. Kumar has over 15 years of clinical experience in stem cell technology and extensive research career.  
Education and Certifications: 
International Advanced Diploma in Stem Cells and Regenerative Medicine (ADSCRM)

 

MD PhD In Stem Cells and Regenerative Medicine (MD PhD SCRM)

 

Integrated Stem Cell Programs (ADSCRM + MSc/B.Tech Project + CSIR-JRF/GATE-JRF)

 
Book Your Consultation for Stem Cell Therapy in Chennai, India at ASL clinic
You can be and feel healthier with Stem Cell Therapy in Chennai at Auto Stem Laboratories. Contact us today for more information about regenerative treatment in Chennai, India!