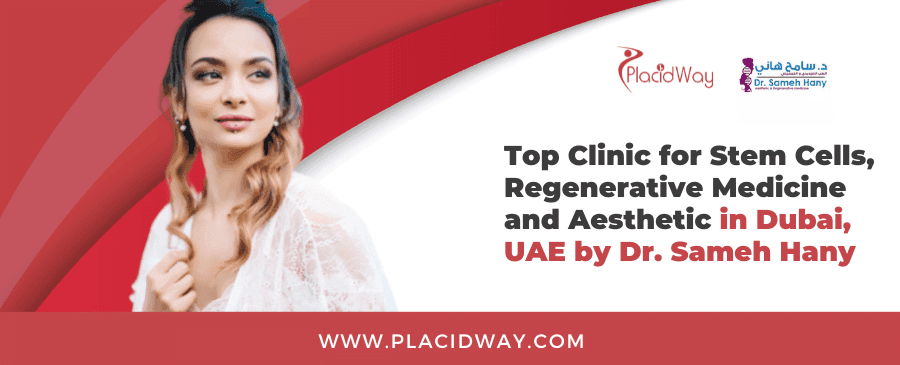 Stem Cell Therapy at Dr. Sameh Hany Clinic in Dubai, UAE
Dr. Sameh Hany is a highly qualified stem cell doctor in Dubai, United Arab Emirates (UAE). He has over 20 years of clinical experience from Egypt, the United Kingdom and the UAE. At Dr. Sameh Hany Clinic, we offer quality, safe and effective aesthetic treatments and stem cell therapies for both foreign and local patients.
Dr. Hany strongly believes that advances in medicine should not only treat patients, but also improve their general health and quality of life. Our clinic is focused on providing wellbeing, aesthetic medicine, regenerative medicine, and rejuvenation and anti-aging treatments to make sure our patient's look and feel their best.
If you have been looking for a stem cell clinic you can trust, look no further than Dr. Sameh Hany Clinic in Dubai, UAE. We are dedicated to giving our patients the best care, advice and services available!
Advantages of Choosing Regenerative Medicine in Dubai, UAE at Dr. Sameh Hany Clinic
Here are several benefits of selecting regenerative treatments at Dr. Sameh Hany Clinic in Dubai, UAE:
Affordable cost
Highly qualified stem cell specialist
Advanced technology
Option of personalized treatments
Minimally invasive procedures
Natural healing response
Quick recovery time with no side effects
Ability to reduce the need for more invasive treatments
Improved patient outcome and satisfaction
Accelerated cell-regeneration process with improved quality of life
Treatments and Procedures Offered by Dr. Sameh Hany Clinic in Dubai, UAE
Here are several treatments and procedures offered by stem cell doctor in Dubai, UAE by Dr. Sameh Hany:
Regenerative medicine
Aesthetic medicine
Anti-aging
Arm Lift
Breast Augmentation
Facelift
Abdominoplasty
Hair Transplant
Cost of Stem Cell Therapy in Dubai, UAE at Dr. Sameh Hany Clinic
You can get information about the cost of stem cell therapy in Dubai, UAE from Dr. Sameh Hany's clinic. His prices for the treatment are highly competitive and he offers a range of treatments to suit all budgets. The exact cost will depend on your condition and the type of therapy you wish to receive. Click button below for more information:

Highly Qualified Aesthetic Medicine and Regenerative Medicine Specialist in Dubai, UAE
Dr. Sameh Hany is a renowned medical professional specializing in aesthetic medicine and stem cell treatment. He is highly trained in facial aesthetics, laser treatments, and regenerative therapies. Check his biography below to learn more:
Doctor Name: Dr. Sameh Hany
Experiences and Certifications:
Doctor of Medicine and Surgery, MBBCH, Egypt
Membership of Royal College of Surgeons, England (MRCS)
Fellowship of Family Medicine (FEBFM)
International Board of Aesthetic Medicine (IBAMS)
International Society for Stem Cells Application Certified Physician
Get FREE QUOTE for Regenerative Medicine in Dubai, UAE at PlacidWay!
Our customer experts at PlacidWay offer the best in regenerative and aesthetic medicine in Dubai, UAE from top stem cell doctor. Our team is experienced in helping patients from all over the world to find the perfect medical solution for their health needs. We understand that every patient has a unique set of circumstances and preferences when it comes to medical treatments. Click contact us button below to get FREE QUOTE!