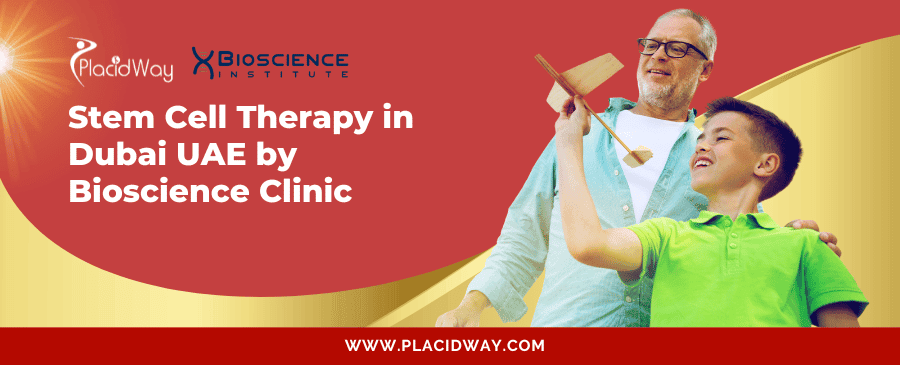 High-Quality Stem Cell Therapy in Dubai UAE
Bioscience Institute is a world class clinic for Stem Cell Therapy in Dubai UAE. You can book your appointment for Regenerative Medicine at PlacidWay. Bioscience Institute Middle East is a clinic and cell factory located in Dubai Healthcare City. The laboratory provides the extraction, expansion, and banking of the Adipose Derived Stem Cell. The clinic also provides stem cell treatments.
The Bioscience Institute Genomics and Clinic is one of the world's leading regenerative medicine centers. It is based in Europe (Roma, Milano and San Marino) and the Middle East (Dubai). Bioscience offers the most advanced personalized expanded adipose derived stem cell therapies and next generation sequencing genomic tests for solid cancer risk management.
The first-class service in Regenerative Medicine at Bioscience includes cryopreservation, stem cells for personalized anti-aging treatments, aesthetic plastic surgery, hair regeneration and wound care. With some of the most experienced and qualified stem cell practitioners, Bioscience is at the forefront of providing cutting-edge regenerative treatments in Dubai, UAE.
Benefits of Having Regenerative Treatment in Dubai UAE by Bioscience Institute
Below are the advantages of choosing Stem Cell in UAE by Bioscience Institute:
The most advanced autologous cell therapies
The high level of excellence and includes cell banks, clean rooms and other facilities
Bioscience Institute Laboratories are licensed and inspected by the Ministry of Health of UAE and DHCC
Bioscience Institute has established a worldwide excellence facility in Dubai in 2014.
List of Regenerative Treatments at Bioscience Institute in Dubai UAE
Here are the available procedures that Bioscience Institute in Dubai offers to their patients:
Stem Cell Banking
Umbilical cord blood
Cord tissue
Adipose tissue
Expanded metabolic screening
Prenatal Screening
G-TEST
ULTRANIPT 110
ULTRANIPT DG
OMNIPT
Solid Cancer Prevention
HELIXPAN – Solid tumors
HELIXGYN – Breast and ovary
HELIXMOKER – Lung
HELIXCOLON – Colorectal
Hereditary Tumors Check
MYCHECK Cancer Male
MYCHECK Cancer Female
MYCHECK Breast – Breast and ovary
MYCHECK Colon
Solid Cancer Diagnosis
HELIDX COLON – Colorectal
HELIDX BREAST – Breast and ovary
HELIDX LUNG – Lung
HELIDX LIQUID BIOPSY
Cancer Driver Interception
CYTOBALANCE – Chronic inflammation
MICROBALANCE – Gut microbiome
HELIXAFE – Genomic instability
IMMUNEBALANCE – Immune system
Food Supplements
CYTOBALANCE – Inflammation
MICROBALANCE – Gut flora balance
HELIXBALANCE – Genomic instability
IMMUNOBALANCE – Immune system
Aesthetic Medicine
LIPOSKILL – Skin rejuvenation
LIPOSKILL PLUS – Scar reduction
HAIRSKILL – Hair loss treatment
GYNSKILL – Vaginal rejuvenation
Regenerative Medicine
ORTHOSKILL – Regenerative orthopedics
OVOSKILL – Early menopause
ANDROSKILL – Erectile dysfunction
AGESKILL – Anti-aging Therapy iV
XEROSKILL – Xerostomia Treatment
Body Shaping
Face Reshaping
Breast Augmentation
Buttocks Enhancement
Penis Enlargement
What is the Cost of Stem Cell Therapy in Dubai UAE at Bioscience Institute?
Stem cell therapy in Dubai is affordable considering the quality of care and professional doctors in Bioscience Institute. Their experienced doctors and scientists are dedicated to providing the best possible results for patients. They offer a variety of stem cell therapies that can be customized to each patient's needs. Various financing options are also available to make clinic services accessible to everyone. Connect with our Customer Representative now to get an accurate price for stem cell therapy in Dubai UAE:

Qualified Regenerative Medicine Doctors in Dubai UAE at Bioscience
Find below the best Stem Cell Doctors in Dubai credentials at Bioscience Institute:
Doctor Name:
Francisco De Melo
Roberto Viel
Massimo Piracci
Maria Kattar
Mohamed Ahmed Elsaid
Certifications and Accreditations:
UAE MOH approval
GMP certificate
ISO certificate
Dubai Health Authority approval
Schedule Your Appointment for Stem Cell Therapy in Dubai UAE Today!
Get the highest quality genomics and regenerative medicine services at Bioscience Institute Genomics and Clinic. Contact us today to find out more about our services and how we can help you connect with top clinic for stem cell therapy in Dubai UAE.