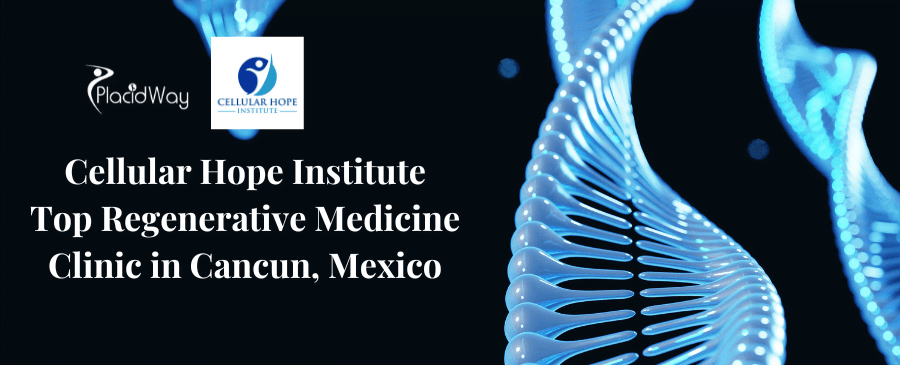 About Cellular Hope Institute Cancun Mexico
Cellular Hope Institute is a premier regenerative medicine center situated in the vibrant city of Cancun, Mexico. We are committed to revolutionizing healthcare through innovative cellular therapies that harness the body's natural healing potential. With a team of expert physicians and advanced medical technologies, we offer hope and transformative solutions to patients seeking alternative options for various medical conditions.
At Cellular Hope Institute, our mission is to empower individuals to regain control of their health and well-being through regenerative medicine. We go beyond conventional approaches to provide effective and safe treatment options, aiming to improve the quality of life and restore hope for our patients.
Learn about Our Regenerative Treatments
At Cellular Hope Institute, we offer a range of advanced regenerative treatments that harness the body's innate healing abilities. Our innovative therapies aim to restore damaged tissues, promote natural rejuvenation, and improve overall well-being. Here are some of the regenerative treatments we provide:
Stem Cell Therapy: Stem cell therapy utilizes the remarkable potential of stem cells to repair and regenerate damaged tissues. We employ autologous stem cells, derived from the patient's own body, ensuring compatibility and minimizing the risk of rejection. Stem cell therapy has shown promising results in treating conditions such as joint pain, sports injuries, autoimmune disorders, neurological disorders, and degenerative diseases.
Platelet-Rich Plasma (PRP) Therapy: PRP therapy harnesses the healing properties of platelets found in the patient's own blood. By isolating and concentrating platelets, we create a potent solution rich in growth factors and other bioactive substances. PRP therapy is used to promote tissue repair, reduce inflammation, and accelerate healing in orthopedic injuries, chronic pain conditions, and aesthetic treatments such as skin rejuvenation and hair restoration.
Exosome Therapy: Exosomes are extracellular vesicles released by stem cells that play a crucial role in cell-to-cell communication and tissue regeneration. Exosome therapy utilizes these bioactive vesicles to stimulate healing, promote tissue repair, and modulate the immune system. This innovative therapy shows promise in various applications, including anti-aging treatments, tissue regeneration, wound healing, and managing chronic diseases.
Anti-Aging Treatments: We offer a range of regenerative therapies designed to slow down the aging process and enhance vitality. These treatments may include hormone replacement therapy (HRT) to restore hormonal balance, nutritional support to optimize cellular health, and innovative anti-aging protocols to address specific concerns. Our comprehensive approach aims to promote longevity, enhance quality of life, and rejuvenate both body and mind.
Integrative Medicine: Complementing our regenerative treatments, we incorporate holistic approaches through integrative medicine. Our team of experts may provide nutritional counseling, lifestyle modifications, stress management techniques, and other supportive therapies to optimize treatment outcomes. By addressing the root causes of health issues and promoting overall well-being, integrative medicine plays a vital role in supporting regenerative therapies.
Meet Our Team Members at Cellular Hope Institute
At Cellular Hope Institute, we have assembled a team of highly skilled and compassionate professionals who are dedicated to providing exceptional care and guiding patients through their regenerative medicine journey. Our team members include:
1. Dr. Rafael Moguel (Medical Director): Dr. Rafael Moguel is a renowned regenerative medicine specialist and serves as the Medical Director at Cellular Hope Institute. With extensive experience in the field, Dr. Rafael Moguel leads the team in developing innovative treatment protocols and ensuring the highest standard of patient care. He is committed to advancing regenerative medicine and has a deep passion for helping patients regain their health and vitality.
2. Dr. Silvina Pastrana (Regenerative Medicine Specialist): Dr. Silvina Pastrana is a skilled physician specializing in regenerative medicine. With a focus on stem cell therapy and exosome treatments, She brings expertise in using these advanced techniques to promote tissue repair and rejuvenation. Dr. Silvina Pastrana is dedicated to staying at the forefront of medical advancements in regenerative medicine to provide cutting-edge therapies for our patients.
3.Dr. Alicia Corzo (Integrative Medicine Specialist): Dr. Alicia Corzo is a highly skilled and compassionate Integrative Medicine Specialist at Cellular Hope Institute. With her expertise in integrative medicine, Dr. Corzo plays a vital role in guiding patients towards optimal health and well-being. She combines the best of conventional medicine with evidence-based complementary therapies to address the root causes of health issues and promote holistic healing.
4. Dr. Maritza Novas (Pain Management Specialist): Dr. Maritza Novas is a highly experienced and compassionate Pain Management Specialist at Cellular Hope Institute. With her expertise in pain management, Dr. Novas focuses on providing personalized care to patients suffering from chronic pain conditions. She is dedicated to helping individuals find relief, improve their quality of life, and regain functional abilities through comprehensive pain management strategies.
Our Promise to You
Cellular Hope Institute promises to provide the best care and outcomes possible to patients. The center uses regenerative medicine to renew and restore natural healing capabilities. The staff at the center prioritizes their patients and aims to inspire hope while improving their overall well-being, emotionally and spiritually.
About Our Regenerative Medicine Office
Cellular Hope Institute's regenerative medicine office is situated in the heart of downtown Cancun, Mexico, in an area known as the "Stem Cell Circle." This location reflects our dedication to the field of regenerative medicine and our commitment to providing cutting-edge therapies.
Convenient Location: Our office is conveniently located in downtown Cancun, ensuring easy accessibility for both local and international patients. The city's well-developed infrastructure and transportation networks make it convenient for individuals seeking regenerative medicine treatments.
State-of-the-Art Facilities: At Cellular Hope Institute, we prioritize patient comfort and safety. Our office is equipped with state-of-the-art medical facilities, including advanced diagnostic and treatment technologies. These modern amenities allow us to deliver the highest standard of care and ensure optimal treatment outcomes for our patients.
Surgery Center: In addition to our office space, we have a dedicated surgery center within the facility. This allows us to perform advanced regenerative procedures in a controlled and sterile environment. The surgery center is staffed by a skilled team of medical professionals, ensuring that our patients receive exceptional care throughout their treatment.
Comfortable and Welcoming Environment: We understand that undergoing regenerative medicine treatments can be a significant decision and a journey of hope for our patients. Therefore, we have created a comfortable and welcoming environment within our office. From the moment you enter, our friendly staff will ensure that you feel at ease and supported throughout your time with us.
Patient-Centric Approach: Our regenerative medicine office is designed with our patients' needs in mind. We strive to create an atmosphere that fosters open communication and trust, allowing our patients to feel confident in their treatment decisions. Our team is committed to providing personalized care, addressing individual concerns, and guiding patients through their regenerative medicine journey.
Why Choose Cellular Hope Institute in Cancun Mexico for Stem Cell Therapy?
Expertise in Stem Cell Therapy: Cellular Hope Institute has a team of highly skilled and experienced physicians who specialize in stem cell therapy. They have extensive knowledge of the latest advancements in the field and are well-versed in delivering personalized treatment plans tailored to each patient's unique needs.
Cutting-Edge Technology and Facilities: Our institute is equipped with state-of-the-art medical facilities and advanced technologies to ensure the highest standard of care. We stay at the forefront of regenerative medicine research and incorporate the latest techniques and equipment in our stem cell therapy procedures.
Comprehensive Evaluation and Personalized Treatment: We believe in a thorough and individualized approach to stem cell therapy. Our team conducts comprehensive evaluations, including medical history, physical examination, and diagnostic tests, to determine the most suitable treatment plan for each patient. Personalized treatment ensures optimal outcomes and patient satisfaction.
Safety and Ethics: At Cellular Hope Institute, patient safety is our top priority. We adhere to strict safety protocols and ethical guidelines throughout the entire stem cell therapy process. Our stem cells are sourced ethically and undergo rigorous testing to ensure quality and safety.
Experience and Success Stories: We have a track record of success in using stem cell therapy to treat a wide range of conditions. Many of our patients have reported significant improvements in their symptoms and quality of life after undergoing stem cell treatments at our institute. Our success stories are a testament to the effectiveness of our treatments.
Comfortable and Supportive Environment: We understand that undergoing stem cell therapy can be a significant decision for our patients. Our institute provides a comfortable and supportive environment to make your experience as pleasant as possible. Our caring and compassionate staff are here to support you throughout your journey.
Convenient Location: Located in Cancun, Mexico, our institute offers a convenient destination for patients seeking stem cell therapy. Cancun is well-known for its excellent healthcare infrastructure, accessibility, and world-class tourism facilities, making it an ideal location for medical travel.
Choosing Cellular Hope Institute Cancun Mexico for stem cell therapy means gaining access to expert physicians, cutting-edge technology, personalized treatment plans, and a supportive environment. We are committed to helping our patients achieve the best possible outcomes and improve their quality of life through innovative stem cell therapies.
Contact us today to learn more about our services and begin your journey to healing and regeneration.