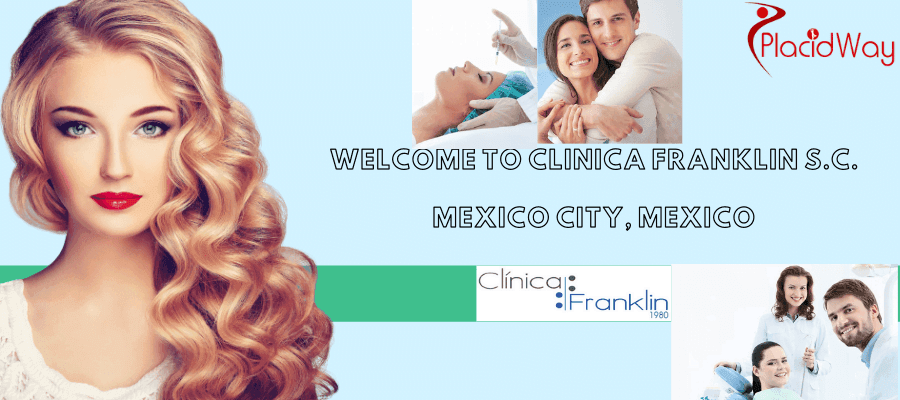 Get Stem Cell Treatment in Mexico City at Clinica Franklin
Clinica Franklin S.C. is located in Mexico City, Mexico. It stands for their comprehensive medical attention provided to every patient. Their professional team is made of interdisciplinary specialists who have much experience and receive ongoing training. The stem cell clinic always guarantees that their medical treatments meet the highest standards of quality combined with the support of state-of-the-art facilities and the advanced technology, which leads to complete patient satisfaction.
The clinic medical professionals are committed for the service to offer personalized treatment, respecting the values of honesty, privacy and quality. You will have safe and quality treatment to improve your overall health according to the standards of the General Health Commission. Their goal is to promote constant progression with new technologies and methodologies that help identify areas of improvement within the health services.
The clinic aims to be the best private comprehensive medicine and inpatient clinic to offer care, conservation and regenerative medicine for individuals in recovery, health and well-being with certified medical specialists equipped with the finest avant-garde technologies.
They offer comprehensive medical services, regenerative medicine, inpatient aesthetic surgery and integral dentistry with certified medical specialists, based on the latest technologies and quality service.
Stem Cell Treatment Cost at Clinica Franklin S.C. in Mexico City
The cost of Stem Cell Therapy in Mexico City at Clinica Franklin S.C. is more affordable than in the USA and Canada. You can save up to 70% and get the same quality of care as at home. Find the latest Regenerative Medicine prices at Clinica Franklin S.C. by contacting our Customer Care Team.

Regenerative Treatment Procedures at Clinica Franklin S.C. in Mexico City
Stem Cell Therapy:
Anti-Aging/Aesthetic Medicine
Chronic Degenerative Diseases
Sports Medicine
Wellness Therapy
Plastic Surgery:
Breast Lift
Liposculpture
Mammoplasty Reduction
Mammoplasty Augmentation
Buttocks Augmentation
Tummy Tuck
Eyelid Surgery
Otoplasty
Cheek Surgery
Rhinoplasty
Face Lift/ Rejuvenation
Botox
Fillers
PRP
Dental Care:
Dental Implants
Periodontics
Cosmetic and Teeth Whitening
Endodontics
Pediatric Dentistry
Dental Prosthesis
Maxillofacial Surgery
Maxillary Orthodontist and Orthopedics
Dental Laboratory
Book Today Stem Cell Therapy in Mexico City, Mexico at Clinica Franklin S.C.
Ready to book an appointment for regenerative medicine, dental care, or cosmetic surgery in Mexico City? Contact us today for more information about Clinica Franklin S.C. in Mexico City, Mexico and get a free quote: