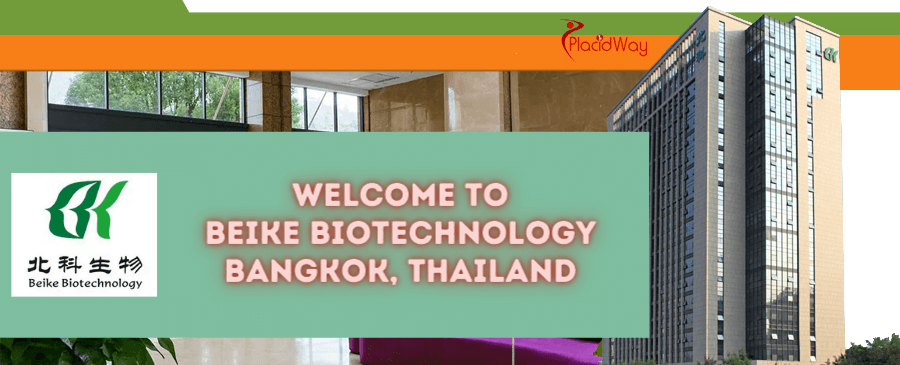 About Beike Biotechnology Stem Cell Clinic in Bangkok Thailand
Beike Biotechnology is a firm based in Shenzhen (near Hong Kong) and Taizhou, China. Many of Beike's scientists have also worked at prestigious Western universities such as Stanford, the University of Minnesota, and UCLA. Our affiliated hospital for stem cell therapy in Bangkok, Thailand, is the first authorized Functional Medicine center in Asia, providing high-quality therapies to each patient's unique condition, including: Occupational Therapy, Physiotherapy, Aqua therapy, Hyperbaric Oxygen Therapy, Transcranial Magnetic Stimulation, Acupuncture, and Nutrition Therapy.
The hospital is based on the Functional Medicine principle, which guides the treatment of all chronic disease patients. It is intended to be an Integrative Center, where various treatment modalities can be provided under one roof, with a focus on beneficial lifestyle changes to provide solutions for chronic problems as well as cutting-edge stem cell therapy. Beike uses cutting-edge technology to provide patients with high-quality regenerative therapy.
Beike Biotechnology is the global leader in stem cell treatments for patients suffering from major injuries and diseases. Over 22.500 patients have received our treatments safely, which combine the most intensive stem cell protocols available with extensive support therapy such as rehabilitation and acupuncture.
Since 2005, Beike Biotechnology has been providing adult stem cell treatment protocols for over 22,500 patients from over 40 countries, including the United States, Canada, England, Australia, South Africa, France, Germany, Spain, Portugal, Italy, Belgium, Poland, Romania, Brazil, Mexico, Colombia, Argentina, Korea, China, Thailand, India, Cameroon, Algeria, Tunisia, Morocco, and others. Beike Biotech has a multilingual team that can communicate in over 15 languages.
Some of the laboratories are in hospital research departments, while others are directly inside government blood banks. Because we are so concerned about safety, Beike has established its own stem cell bank in collaboration with the regional government. All of the equipment in the banks and laboratories is up to date.
Beike is the world's largest stem cell provider, specializing in adult stem cell research, development, and clinical translation. In addition to stem cell therapies, we have developed immunotherapy treatments for a variety of conditions. Our goal is not only to provide high-quality treatments to patients all over the world, but also to foster collaborations in the field of regenerative medicine by collaborating with governments and clinicians all over the world to provide effective stem cell treatments.
Advantages of Choosing Beike Biotechnology for a Regenerative Medicine in Bangkok, Thailand
Experience: With over a decade of experience, you can be confident that you will be advised and treated by competent professionals.
Safety: Our stem cell processing methods and laboratories are accredited by the American Association of Blood Banks (AABB) and adhere to the highest international standards, ensuring that you receive the best stem cell quality available.
Diversity: A variety of stem cell types with varying capabilities are available to adapt to each patient's specific condition. For each patient, we do not use the same type of stem cells.
Extensiveness: A comprehensive supportive therapy program is provided daily to stimulate the newly transplanted stem cells of the patient. The best results can only be obtained by assisting your stem cells.
Support: A comprehensive follow-up program is provided following treatment, and you will be asked to participate in it at 1, 3, 6, and 12 months. Access to our team following treatment is critical because you may receive additional advice to maximize improvements.
Regenerative Treatment Procedures Available at Beike Biotechnology Clinic in Bangkok Thailand
Beike, Thailand's Best Clinic for Stem Cell Therapy, offers treatment protocols that include not only multiple stem cell injections but also extensive rehabilitation programs in order to provide real chances of improvement for patients diagnosed with various neurological and neuro-muscular conditions, as well as auto-immune diseases and other conditions.
Stem cells help your body by improving the effective conduction of intercellular electrical signals and transduction, neo-angiogenesis (the growth of blood vessels resulting in increased blood flow to damaged areas), reducing cell death, immune system regulation, and stimulating the patient's own stem cell growth.
Key conditions that can be improved with stem cell treatment include (SMA) Spinal Muscular Atrophy, Cerebral Palsy, Autism, and Ataxia. Cirrhosis of the liver, Multiple Schlerosis, and Muscular Dystrophy
Stem Cell Treatment Cost at Beike Biotechnology Clinic in Bangkok, Thailand
Unfortunately, the cost of stem cell treatment is unlikely to be covered by your insurance. However, Beike clinic understands patients' financial needs, and offers extremely competitive prices, but also many ways to help you raise money to receive treatment. The clinic will assist you in considering these options and learning how to make stem cell treatment a more viable option for you. If you want to know the latest prices at Beike Clinic in Bangkok, contact our Customer Care Team.

Get Effective Regenerative Medicine at Beike Clinic in Bangkok, Thailand
Beike is a research-focused organization. Our passion for helping patients goes far beyond simply using stem cells for clinical treatments based on the findings of others. It extends to actual scientific research into cell technologies, and Beike has been a world leader in this vital field.
This enables Beike's treatment protocols and stem cell processing to be guided not only by third-party research, but also by our own. Beike has nearly 50 peer-reviewed research papers published in scientific journals around the world (including Nature) and has spent tens of millions of dollars on scientific laboratories and cell research over the last decade.
Beike has provided stem cells to partner hospitals for the treatment of over 9000 patients since 2005. Beike currently supplies umbilical cord, cord blood, and bone marrow-derived stem cells to over 30 hospitals for the treatment of neurological and vascular diseases. As the provider, Beike has complete control over cell manufacturing, from blood product testing to cell processing in our laboratories to cell delivery for clinical use. This ensures the safety and quality of the cell.
Why Consider Bangkok, Thailand for Regenerative Medicine?
Beike Biotechnology has been collaborating with hospitals in countries such as Thailand and China. Although these locations may appear to be far from your home country, they are easily reachable with flights from different places worldwide.
In addition, Bangkok is a vibrant and culturally diverse city attracting millions of tourists per year. Bangkok offers not just hot attractions but also world-class facilities equipped with luxurious rooms and high-tech technology.
Here you'll be able to experience a life-changing stem cell treatment and also a relaxing vacation. The top places you can visit in Bangkok are
Wat Phra Chetuphon
Temple Of Dawn (Wat Arun)
Chatuchak Weekend Market
Jim Thompson House
Temple of the Emerald Buddha
The Golden Mount
The Grand Palace
FAQs about Regenerative Treatment in Bangkok, Thailand
What is Stem Cell Therapy and how does it work?
Our bodies' stem cells are in charge of growth and repair. With aging or a severe injury, the body struggles to produce enough stem cells for the damaged area. This can be remedied by injecting stem cells into the affected area, allowing for natural healing of degenerated tissues, cartilage, ligaments, tendons, and bone. This will aid in a quicker recovery and a painless rehabilitation process following surgery.
What is the potential of stem cell therapy?
Stem Cell Therapy has the potential to regenerate damaged tissue and help patients cope with their disease more effectively. Stem cells are the most effective at assisting.
Inflammation should be reduced.
Reduce fibrosis of the tissue
Control overactive immune cells
Help the blood supply
Encourage cell survival
Encourage the formation of connective tissue.
What diseases and conditions can Stem Cell Therapy treat?
Stem Cell Therapy can treat a variety of conditions, including:
MS (Multiple Sclerosis) (Multiple Sclerosis)
Parkinson's Illness
Autoimmune Disorder
Lung Illness
Injury to the Spine
Knee discomfort (Osteoarthritis or Meniscal Tear)
Shoulder ache (Tendinitis or Torn Rotator Cuff)
Foot ache (Plantar Fasciitis or Achilles Tendinitis)
Back or neck pain
Fractures that don't heal
Disc and joint degeneration
What should I anticipate from Stem Cell Therapy?
Each patient and condition is unique. Although stem cells have been shown to be effective, individual results may vary. Some people experience pain relief immediately, while others experience it gradually. Stem cells require time to regenerate, and even after the treatment is completed, PRP or other injections may be recommended as maintenance to maintain pain relief.
Is Stem Cell Therapy right for me?
Following an initial evaluation and imaging examination, a doctor will recommend stem cell therapy treatment. He will go over your options with you and explain the procedure so you can be ready for the treatment.
Book Your Appointment at Beike Biotechnology Clinic in Bangkok, Thailand for Regenerative Medicine Treatment
Book now for Stem Cell Therapy in Bangkok, Thailand with Beike and receive the best Stem Cell Packages with a variety of benefits for patients. Please contact us if you want to learn more about the treatments and procedures offered by Beike Biotechnology!