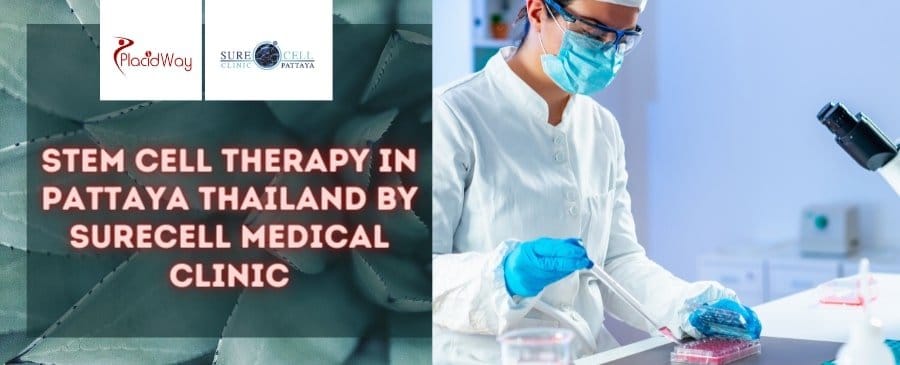 About Surecell Medical Clinic in Pattaya Thailand
Surecell Medical Clinic provides safe and effective Stem Cell in Thailand. Book now cost-effective Cell Based Therapy in Pattaya at PlacidWay. Surecell Medical Clinic (SMC) is one of the best center for Regenerative Therapy in Pattaya Thailand. They have a highly skilled team and state-of-the-art facilities. If you're looking for high-quality Stem Cell Therapy, Surecell Medical is the place to go.
At Surecell Clinic, we focus on harnessing the regenerative powers that exist within our bodies. By unlocking this potential, we can help our patients achieve remarkable results. Whether it's revitalizing aging skin or restoring damaged tissue, our cell based therapy designed to promote improvement and regeneration. By harnessing the body's natural ability to receive improvement, we can help our patients achieve specific results.
Benefits of Cell Based Therapy in Pattaya Thailand at SMC
Here are some advantages that you can get from Stem Cell Centers in Thailand by Surecell Medical Clinic:
Get best service from top clinic with world class facilities
Easy access for same day appointments
Meet and consultation with certified specialists
Safe and effective therapy with high success rate
Competitive cost of cell based therapy in Thailand
List of Procedures at Surecell Medical Clinic in Pattaya Thailand
Here are several procedures available at Stem Cell Clinic in Pattaya Thailand by SMC:
Platelet-Rich Plasma (PRP)
PRP is a concentration of platelets and other factors that can promote healing. PRP has many potential uses, including hair loss, orthopedic injuries, and skin rejuvenation. Platelet-Rich Plasma (PRP) is a therapy that has been used for many years to help speed up the healing process.
Cosmetic PRP
PRP stands for "platelet-rich plasma." Plasma is the liquid portion of your blood. It contains nutrients and proteins that help your blood clot. Platelets are a type of blood cell that helps to form clots. When plasma is injected into the skin, it can give positive improvement for wounds and reduce inflammation. PRP is often used as a treatment for conditions like acne scars, dark circles under the eyes, and wrinkles.
Orthopedics Stem Cell Therapy
Orthopedics stem cell therapy is a promising new treatment for a variety of orthopaedic conditions. It involves the use of stem cells, which are found in both adults and children, to help repair damaged tissue. In some cases, stem cell therapy has the potential to completely cure an orthopaedic condition.
XCELL Therapy
Patients with stroke or traumatic brain injury often have difficulty with limb coordination. The XCELL therapy helps these patients regain movement and coordination by providing electrical stimulation to the affected muscles. This treatment is custom-tailored to each patient's individual needs, and it has been shown to be effective in helping patients recover from stroke and other neurological conditions.
Genital PRP
Genital PRP is being researched for its use in sexual health and its potential to treat STDs. Scientists are hopeful that this new discovery will help to improve sexual health for people around the world.
Cost of Stem Cell in Pattaya Thailand by Surecell Medical Clinic
There are so many benefits that you can get from regenerative therapy, one of which is getting alternative treatments for moderate to chronic health problems. We will help you get the Cost of Regenerative Therapy in Pattaya Thailand by Surecell Medical Clinic at the best price. For more information, contact our Customer Representative!

Highly Skilled Doctors for Regenerative Therapy in Pattaya Thailand
Check below for more information about top doctor for Stem Cell in Thailand at Surecell Medical Clinic:
Doctor Name: Dr. Peter Lewis, MBBS, FAARM, Dip. Sports Med – Medical Director and Founder
Australian Registered Medical Practitioner since 1983
Bachelor of Medicine and Surgery graduate from Monash University
In 1988, he completed a post-graduate diploma in Sports Medicine
Expert in the field of sports medicine, including platelet-rich plasma (PRP)
Chairman of the Australian Ringside Medical Association
Presiding doctor for most boxing and kickboxing fights in Victoria
CEO of Central Melbourne Institute
Lecturing and educating on the topics of PRP and Stem Cell Therapies in Australia and worldwide.
Other Doctors: Dr. Patrick – FRACGP
Patients Reviews at Surecell Medical Center:
Kenneth Rodrigues
Yes, If you get treatment of PRP early on in osteoporosis, you can get a full recovery as I have, took me 7 sessions in my left knees, Deeply indebted to both Dr David Sacks/Dingley Village, VIC & followed by in NSW by Dr Taciano Bantatua/ Hornsby when I had to relocate to ACT for a promotion. I recommend it highly, compared to a $20,000+ knee reconstruction with no guarantee it will last! This is probably the best way to get results for your time and hard earned cash.
Caitlin Meyer
My grandmother Shirley is so conscious of her healthcare that she'll happily travel from Tasmania for an appointment with Dr Lewis. She's always very well taken care of, and wanted me to pass on a five star review. Well deserved!
Lorelle Wendt
I am deeply indebted to the knowledgeable and caring Dr Peter Lewis and his team at Surecell for my regained physical fitness levels and pain free movement. Following an unsuccessful arthroscope and subsequent prognosis of needing 2 knee replacements, I pursued the PRP (Platelet Rich Plasma) route. After just 3 sessions, in 3 weeks, I was able to bushwalk again (first time in 3 years)! I know that this does not work for everybody, but success rate hovers around 80%. It worked brilliantly for me….I am a convert.
Leo Roytman
Absolutely phenomenal clinic. I cannot speak highly enough of Amir, not only is he super caring and provide great service – he is also incredibly knowledgeable and insightful. Would definitely recommend! 5/5.
Dinukshi Daniels
One of the few medical clinic left where Doctors stand by their oath to FIRST do no harm.
Start Your Journey for Alternative Therapy Using Stem Cell in Thailand at SMC!
Your journey to alternative therapy using stem cell will be full of convenience and satisfactory at SMC in Thailand. Nowadays, Stem cell therapy is an innovative and effective treatment option that can help you feel your best. Our team of experts is here to support you through every step of your journey, ensuring that you receive the highest quality care possible. Contact PlacidWay today to learn more about how our Stem Cell Therapy Packages can help you achieve your health goals!