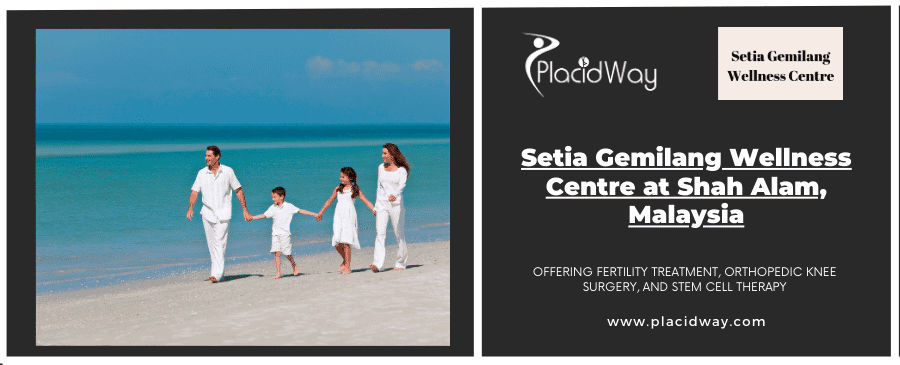 Setia Gemilang Wellness Centre – Stem Cell Clinic in Shah Alam, Malaysia
Nestled in the heart of Shah Alam, Malaysia, the Setia Gemilang Wellness Center has earned a global reputation as a premier destination for advanced healthcare and wellness solutions. With a special focus on Orthopedic Treatments, Stem Cell Therapy, and Fertility Treatments, this world-class center offers a sanctuary for individuals seeking top-tier medical care and the ultimate in relaxation. The highly qualified team of surgeons, doctors, therapists, and nurses at the center extend a warm welcome, setting the stage for a truly unique experience in the realm of medical tourism.
Services at Setia Gemilang Wellness Center in Shah Alam, Malaysia
Setia Gemilang Wellness Center excels in an array of medical services, from routine health check-ups to state-of-the-art treatments. Offering regenerative treatments to combat degenerative diseases, stem cell therapy for neurological disorders, and specialized anti-aging and rejuvenation treatments. We also provide innovative solutions for tissue repair and regeneration following injuries.
It stands as the ideal choice for those individuals who wish to take proactive measures to safeguard their health. At Setia Gemilang Wellness Center, you not only obtain high-quality results but also enjoy the peace of mind that comes with compassionate care, personalized attention, and the incorporation of the latest cutting-edge technology.
Why Choose Setia Gemilang Wellness Center in Shah Alam, Malaysia
Opting for Setia Gemilang Wellness Center in Shah Alam, Malaysia, equates to selecting the pinnacle of medical excellence, where innovation and compassionate care converge to provide a comprehensive range of healthcare solutions. Here are several reasons that underscore why Setia Gemilang is the preferred choice for medical treatments:
High Success Rates: Setia Gemilang Wellness Center's commitment to excellence is evident in its high success rates across various treatments, particularly in Fertility Treatments, Orthopedic Surgeries, and Stem Cell Therapies.
International Patient Services: For international patients, the center offers a range of services, including assistance with travel and accommodations, translation services, and customized medical packages, ensuring a seamless and comfortable medical journey.
Holistic Wellness Programs: In addition to medical treatments, the center provides holistic wellness and preventive programs, focusing on the overall well-being of individuals. These programs encompass nutritional counseling, physical fitness plans, and wellness therapies.
Renowned Specialists: The center boasts a highly qualified and experienced team of specialists, surgeons, and healthcare professionals committed to providing personalized and effective treatment plans tailored to each patient's unique medical needs.
Patient-Centric Approach: Each patient receives the utmost respect, empathy, and care. Individualized treatment plans are crafted through comprehensive consultations, taking into account the patient's specific medical needs and preferences.
Multidisciplinary Expertise: Setia Gemilang Wellness Center specializes in various medical fields, including Stem Cell Therapy, Orthopedic Surgeries, and Fertility Treatments, granting patients access to a wide spectrum of healthcare services under one roof.
Cutting-Edge Technologies: The center is equipped with state-of-the-art medical technologies and advanced therapeutic techniques, ensuring patients receive optimal care with reduced recovery times.
Latest Technology and Treatments at Setia Gemilang Wellness Center
Nestled in the heart of Shah Alam, Malaysia, Setia Gemilang Wellness Center serves as a beacon of medical innovation. The center takes pride in integrating the latest in medical technology and research-driven treatments, ensuring that patients receive the highest quality of care. Their diagnostic facilities boast advanced imaging systems, including high-definition MRI, CT scans, and X-rays for precise diagnoses.
A particular highlight is their state-of-the-art stem cell treatments, harnessing the regenerative power of stem cells to address a wide range of conditions, from orthopedic injuries to degenerative diseases. In the realm of surgical procedures, they have embraced robotic-assisted techniques, especially for orthopedic interventions, ensuring precision, reduced invasiveness, and significantly quicker recovery times.
Holistic Treatment Approach at Setia Gemilang Wellness Center
In recent years, holistic healing has gained traction as individuals increasingly seek more natural and comprehensive approaches to healthcare. Setia Gemilang Wellness Center, located in Shah Alam, Malaysia, offers a wide range of holistic treatments that promote the healing of both the body and mind. Whether you are a visitor seeking medical tourism or a local patient, the experienced practitioners at Setia Gemilang work collaboratively with you to develop a personalized treatment plan tailored to your unique needs.
Book Your Appointment for Regenerative Medicine in Shah Alam, Malaysia at PlacidWay!
Setia Gemilang Wellness Center in Shah Alam, Malaysia, is a highly regarded medical facility providing advanced medical services to patients from all corners of the world. With their expertise in stem cell therapy, orthopedic surgeries, and fertility treatments, the center ensures that patients receive top-tier care. Setia Gemilang Wellness Center also offers various other medical services, ensuring patients have access to a comprehensive approach to their health needs. If you are seeking a medical facility where you can place your trust in receiving optimal care, Setia Gemilang Wellness Center is the ideal choice. Click Contact us button below to book your appointment.