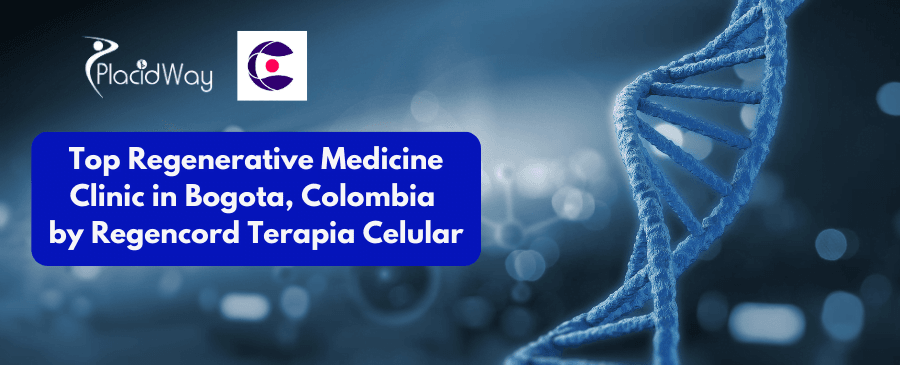 Top Regenerative Medicine Clinic in Bogota, Colombia by Regencord Terapia Celular
Regencord provides individualized cell therapies to match the specific requirements of each patient. Their proficient medical staff performs tailored consultations to decide on the best treatment approach based on scientific research. Regencord has successfully treated domestic and foreign patients for more than a decade, providing exceptional healthcare services.
Regenerative Medicine Experts
Regencord's team of specialists in regenerative medicine delivers innovative treatments supported by extensive research and practice. They use top-notch biological material to ensure dependable and secure therapies. The staff is skilled and capable of handling any situation, while their scientific expertise guarantees the most suitable care for their patients.
World-Class Facility for Quality and Safety
Regencord Terapia Celular is devoted to furnishing top-tier amenities for the safety and quality of all their patients. The stem cell supplier they use has been in the industry for more than a decade, ensuring the excellence of the biological material. A team of proficient specialists, such as pharmacologists, geneticists, and medical surgeons, is trained to cater to every need.
Regencord adheres to strict ethical guidelines to maintain transparency and professionalism in all their operations. Their commitment to upholding ethical standards is evident in their informed consent process, where they provide comprehensive information about the treatment procedure, benefits, and potential risks to patients.
Furthermore, they prioritize patient privacy and confidentiality by ensuring that all medical records are securely stored and accessible only to authorized personnel.
Experienced Medical Team
Regencord has a team of competent medical professionals who are experts in regenerative medicine. Dr. Carlos Alberto Isaza Mejia, a pharmacologist, Dr. Julieta Henao Bonilla, a geneticist, and Dr. Samuel Trujillo, a medical surgeon/orthopedist, collaborate to deliver top-quality healthcare services. They provide individualized consultations to guarantee that each patient receives a customized treatment plan that caters to their specific requirements.
In addition to their team of medical professionals, Regencord also has a dedicated support staff who assist patients with all aspects of their care, from scheduling appointments to navigating insurance and financial options. They prioritize patient satisfaction and strive to create a comfortable and welcoming environment for all patients.
Personalized Patient Care for Innovative Treatments
Regencord delivers tailored patient care for innovative regenerative treatments. Their medical team performs individualized consultations to identify the most fitting treatment plan supported by scientific research. They use advanced regenerative therapies for a range of conditions, including diabetes, Parkinson's disease, autism, and other ailments, to guarantee optimal care for their patients.
Innovative Research Programs for Advanced Treatments
Regencord's commitment to advancing the field of regenerative medicine extends beyond their innovative research programs. They regularly participate in professional development and training to stay up-to-date with the latest developments and technologies in the field.
Their team of professionals actively engages in research collaborations and partnerships with other leading institutions to expand their knowledge and expertise. This dedication to continuous learning and improvement ensures that Regencord remains at the forefront of regenerative medicine and can offer their patients the most advanced and effective treatments available.
Quality and Safety for Reliable Treatments
Regencord Terapia Celular is top regenerative medicine clinic devoted to offering dependable and secure regenerative treatments that prioritize quality and safety. They utilize premium biological material to guarantee optimal care for their patients. Their medical-scientific guidance ensures the dependability and effectiveness of their regenerative therapies in Bogota, resulting in the best possible patient outcomes.
Regencord is not only committed to providing exceptional care to their patients, but also to contributing to the wider medical community through education and research. They regularly participate in conferences and seminars to share their expertise and findings with fellow medical professionals, and they collaborate with research institutions to advance the field of regenerative medicine.
PlacidWay's customer representative will facilitate your connection with Regencord Terapia Celular in Bogota, Colombia. To begin, click the "contact us" button below: