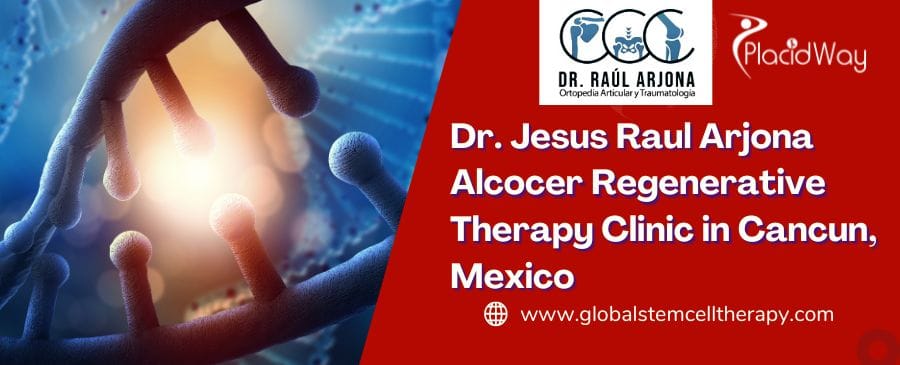 Get Stem Cell Therapy at Dr. Jesus Raul Arjona Alcocer Clinic
 Cancun Mexico
Dr. Jesus Raul Arjona Alcocer Clinic is the best regenerative therapy clinic in Cancun, Mexico. Our team of experienced orthopedic surgeons and physiotherapists provides the highest standard of professional care using the latest regenerative therapies and treatments. We specialize in degenerative joint disorders, sports injuries, spine related disorders, and rehabilitation to restore mobility, strength, and function.  
Our commitment to excellence extends to our facilities as well: we have equipped our clinic with the latest technology in orthopedic surgery, as well as state-of-the-art rehabilitation equipment. At Dr. Jesus Raul Arjona Alcocer Clinic Cancun, we understand that each person is unique and requires a personalized treatment plan. We work with our patients to create a customized approach to their care, including everything from diagnosis to therapy and ongoing follow-up care. Our goal is to help you get better, faster.  
Our team of orthopaedic specialists takes a multidisciplinary approach, which includes providing the best in medical and surgical care, as well as physical therapy and rehabilitation services. We focus on helping you not only get improvement from your injury or condition, but also improve your overall quality of life with regenerative medicine. 
Advantages of Choosing Regenerative Medicine in Cancun, Mexico
High success rate cell based therapy
Personalized and customized treatments
Advanced medical technology and cutting-edge therapies
Access to specialized medical professionals with vast experience in regenerative medicine applications
Reasonable cost as compared to other countries
Experienced clinical staff working under the supervision of leading experts from Cancun's top medical facilities
Procedures and Treatments Offered by Dr. Jesus Raul Arjona Alcocer
Orthopedic Regenerative Therapy:
Our orthopedic regenerative therapy uses adipose (fat) derived stem cells to regenerate damaged tissue in patients with orthopedic conditions. This therapy has the potential to dramatically reduce pain and improve function in a variety of musculoskeletal conditions, including arthritis, cartilage defects, and more.
Prosthesis Surgery:
Using the latest in prosthetic technology, our surgeons can help you regain function and mobility after an amputation. We provide high-level prosthesis surgery tailored to your specific needs and lifestyle.
Arthroscopic Surgery:
Our orthopedic specialists perform arthroscopic surgery to repair or reconstruct ligaments, tendons, or other soft tissues in the shoulder, elbow, hip, knee or ankle. This minimally-invasive procedure helps reduce pain and inflammation while restoring range of motion and function.
Best Regenerative Therapy Doctors in Cancun, Mexico at Dr. Jesus Raul Arjona Alcocer Clinic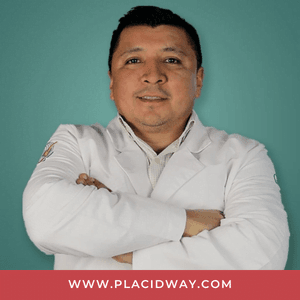 Doctor Name: Dr. Jesus Raul Arjona Alcocer 
Experiences and Qualifications: 
Bachelor of Medicine at the Faculty of Medicine of the UAdY.

 
Orthopedics at the General Hospital of Sonora, endorsed by UNAM.

 

Postgraduate in Articular Reconstructive Surgery and Arthroscopy, at the Hospital de Ortopedia de Mérida, endorsed by the UAdY.

 

Mexican Council of Orthopedics and Traumatology A.C.

 

Member of AMECRA, College of Traumatologists of Quintana Roo, and FEMECOT.

 

Member of ISAKOS, Medical Tourism Association, and Mexican Society of Hip Surgery.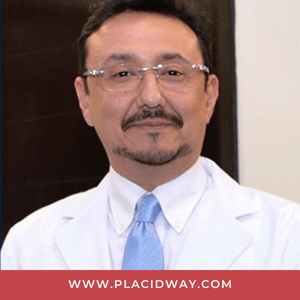 Doctor Name: Dr Raul Barragan Parrao 
Memberships and Qualifications: 
Member of Mexican Association of Endoscopic Surgery, AMCE, 2014

 

Member of Mexican Association of General Surgery, AMCG, 2015

 
General Surgery, Autonomous University of Yucatan, 2000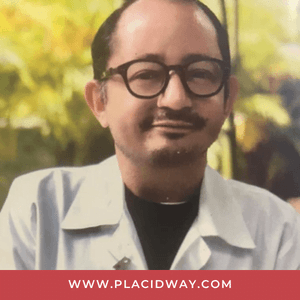 Doctor Name: Dr Rafael Ruiz Ojeda 
Experiences and Educations: 
Universidad Michoacana de San Nicolás de Hidalgo (UMSNH)

 
Completed the Specialty in Internal Medicine at the University of Guanajuato (UG)

 

Expert in Intensive Medicine

 
Certificates Received by Dr. Jesus Raul Arjona Alcocer Clinic in Cancun, Mexico
Check below images about certificates received by Dr. Jesus Raul Arjona Alcocer Clinic: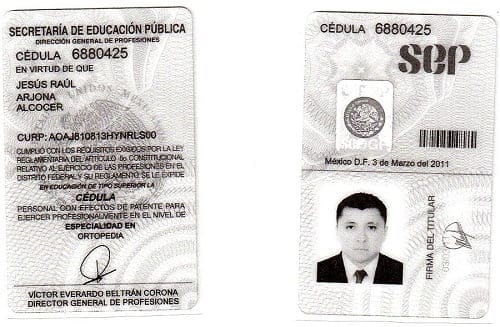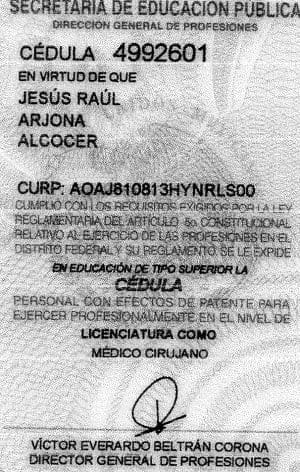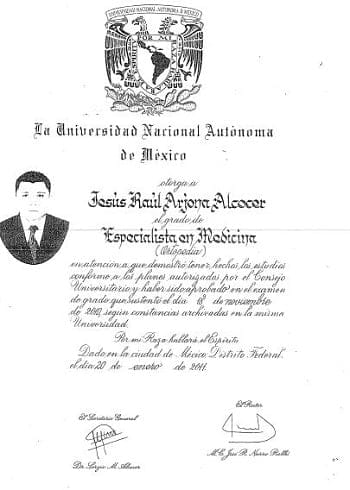 Regenerative Medicine in Cancun Reviews from Real Patients
Doctor Arjona is a wonderful physician. He is a good surgeon. And he has an excellent bedside manner. I first saw Dr. Arjona to discuss the ongoing pain I had in my foot, when I walked. He provided me with a surgical plan. Before we were able to have surgery, I was in a automobile accident. The only injury I sustained was a fracture to that same foot. Dr. Arjona prepared a new surgical plan. The surgery, along with prescribed physical therapy, has allowed me to walk better. I highly recommend Dr. Arjona. I am an English speaker and he was able to explain everything perfectly. – Lynn Luchs 

My experience with Doctor Raúl Arjona has been excellent from the first consultation, after the anterior cruciate ligament surgery was a success, his physiotherapy recommendation is the best in Cancun and in general I have not had any problems throughout the process, everything has been fluent and with experience and quality care from the Doctor. Widely recommended!!!!! – Karla Guerrero 

Hello, good afternoon. I want to thank Doctor Jesús Arjona, for his great experience in his profession, since we had the opportunity and the luck that he operated on my mother's knee, he gave her a knee prosthesis, since it was a very difficult operation and delicate, the truth was that the operation was a success, my mother's knee was fine, thank you for everything, for your experience and kindness. – Samira Valente 

Excellent attention from Dr. Arjona. When I tore my calcaneus, I was worried that I would have permanent problems walking, but today, 16 months after my injury, I can carry out my activities normally. All this thanks to the attention and recommendations of Dr. Arjona, to whom I am completely grateful. I recommend it with total confidence. – Brandon Mejía 

Excellent attention from Dr. Arjona…he resolved my injury without surgery and I am fully recovered. Likewise, Dr. Arjona has supported us by caring for several youth baseball players from our Cancun Panthers Organization / National and International Baseball Tournaments, being our Head of Medical Services and treating injuries to baseball players, resolving and giving them a prompt and positive solution to allow them to continue practicing baseball. Sport at a high level. Very grateful always…. highly recommended……!!!!  – Daniel Alejo 
Why Choose Regenerative Therapy in Cancun, Mexico?
If you are looking for a way to treat your chronic pain, improve mobility, and increase quality of life, then regenerative therapy in Cancun, Mexico could be the answer. Regenerative therapy is a non-surgical medical procedure that harnesses the body's natural healing ability to repair damaged tissue or organs. It is used to treat many conditions such as joint degeneration, tendon inflammation, ligament injury, muscle tears, spinal cord injuries and other orthopedic issues. 
As the best destination for stem cell therapy, Cancun has some of the best facilities in the world offering regenerative medicine treatments with modern technology and advanced protocols. The doctors here specialize in using cutting-edge procedures such as stem cell therapy and platelet rich plasma (PRP) injections to treat a variety of conditions. These treatments are designed to help patients get improvement faster and more effectively, reducing inflammation, pain levels, and improving mobility. 
At PlacidWay, we provide a range of regenerative treatments in Cancun Mexico including stem cell therapy. Our team of experts offers the best and latest treatments to help you with your health needs. Whether you're looking for an anti-aging treatment or relief from chronic pain, we will work with you to determine the best course of action. 
FAQs about Stem Cell Therapy in Cancun, Mexico
Q: How do I know if Stem Cell Therapy is right for me?
A: A consultation with a medical professional experienced in stem cell therapy is essential to determine if stem cell therapy is right for you. This consultation will involve a physical examination and review of your medical history to determine the most appropriate treatment plan. 
Q: What types of stem cell treatments are available in Cancun?
A: The type of stem cell therapy available in Cancun depends on your individual health needs, but the most common types of treatments include stem cell injections, stem cell facials, stem cell-derived fat grafting and autologous bone marrow transplantation. 
Q: Are there any risks involved with Stem Cell Therapy?
A: Yes, as with any medical procedure, there are potential risks associated with stem cell therapy. These may include infection, tissue damage, and an allergic reaction. It is important to discuss the potential risks with your doctor prior to undergoing treatment. 
Q: How much does Stem Cell Therapy cost in Cancun?
A: Depending on the size and complexity of the procedure, stem cell therapy in Cancun can range from $2,000 to $5,000. 
Q: How long will I need to stay in Cancun for Stem Cell Therapy? 
A: Depending on your individual treatment plan, you may be required to stay in Cancun for 2-3 days or up to one week. Your doctor will be able to provide more specific information about the length of your treatment. 
Schedule Your Appointment for Regenerative Treatments in Cancun, Mexico at PlacidWay!
At PlacidWay, we provide a range of regenerative treatments in Cancun Mexico including stem cell therapy. Our team of experts offers the best and latest treatments to help you with your health needs. Whether you're looking for an anti-aging treatment or relief from chronic pain, we will work with you to determine the best regenerative therapy packages available. Click contact us button below to get started: