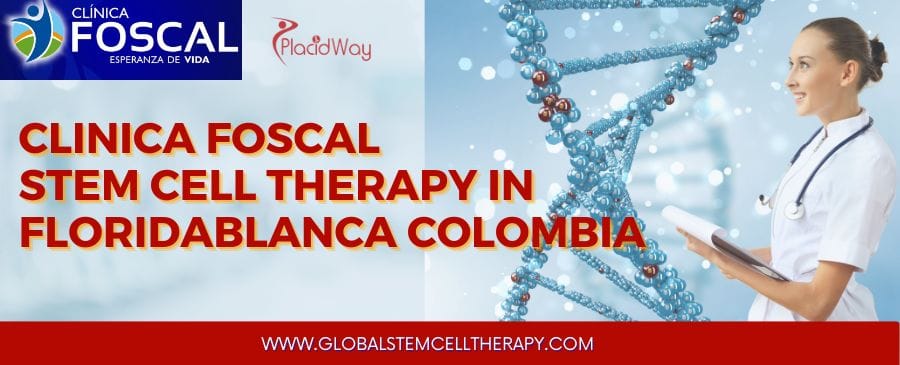 Get Stem Cell Treatment at Clinica Foscal in Floridablanca Colombia
Clinica FOSCAL is the world-class hospital in Floridablanca, Colombia offering Emergency Care, stem cell therapy, Cancer Treatment, and more. It's a private, non-profit foundational organization that has been a benchmark in providing outstanding health services. FOSCAL medical center has modern facilities with large functional areas, hospitalization, surgery rooms, emergency services, intensive care units, outpatient surgery, a heliport and all the necessary support services for excellent patient care.
The medical team is highly experienced and provides complex health services, with the good quality standards, and safe care for their patients. Clinica FOSCAL is one of the leading cancer treatment clinics in Colombia, as well as the Emergency Care and Kidney Transplant Center. The clinic offers a wide range of cancer treatments and has a team of experienced oncologists dedicated to providing the best possible outcome for their patient's well-being.
Clinic Name: Clinica FOSCAL
Procedure: Cancer Treatment, Emergency Care, Kidney Transplant, etc.
Location: Floridablanca Colombia
Doctor: David Gomez Lahitton
Advantages of Stem Cell Treatment in Floridablanca Colombia at Clinica FOSCAL
Below you can see several advantages of choosing Top-Rated Clinic for Stem cell Treatment in Colombia:
Provide highly complex health services
Use and maintain the highest quality standards of healthcare service
Committed to providing humane and safe care for all patients
Use highly qualified human resources and state of art facilities
Cost of Stem Cell Treatment in Floridablanca Colombia at Clinica FOSCAL
You can find affordable prices for stem cell treatments at Clinica FOSCAL. A team of experienced and qualified stem cell specialists uses the latest technology and methods to provide the best possible care. Stem Cell Treatment Cost in Floridablanca Colombia can vary depending on the type of the required treatments. For more information, contact us by clicking button below:

Medical Treatments Available at Clinica FOSCAL in Floridablanca Colombia
Here are several procedures available at reputable hospital in Colombia which includes stem cell treatments, Cancer Treatment, Kidney Transplant and Emergency Care at Clinica FOSCAL:
Cancer Center
Advanced high-tech equipment specialized medical and paramedical personnel for the comprehensive care of cancer patients.
Preventive Medical Checkup
Set of comprehensive exams so that the population can plan their health care and avoid the consequences of unpredictability.
Ambulatory Surgery
Various surgical interventions for which it is necessary to stay in the hospital for a period of 4 to 6 hours.
Hospitalization
Care of patients with hospitalization in a locative area that meets the characteristics to provide the required care and support.
Ophthalmology
Treatments for eye diseases, including the eyeball, its muscles, the lacrimal system and the eyelids.
Surgery's Room
Complete technical and administrative infrastructure to perform surgical, diagnostic and/or therapeutic procedures.
Bone Marrow Transplant
Procedure to eliminate diseased or defective cells and introduce stem cells that produce healthy blood cells and platelets.
Kidney Transplant
Renal transplants (kidney) to patients with advanced kidney disease with living or cadaveric donor.
Adult Intensive Care Unit
Special area to care for adults whose clinical condition has reached a level of severity that represents an imminent or potential threat to their lives.
Pediatric Intensive Care Unit
Specialized area whose function is to diagnose and treat children with serious medical or surgical illnesses.
Emergencies
Initial medical care service for that patient who presents damage to health, which puts organic, psychological or life function at risk.
Multi-tissue Bank and Advanced Therapies Center
The processes related to the fabrics and products of the Multi-fabric Bank and the Center for Advanced Therapies are of the highest quality and safety.
Best Doctor at Clinica FOSCAL in Floridablanca Colombia
Check below for information about the best doctor available in Floridablanca at Clinica FOSCAL:
Doctor Name: Edgar David Gomez Lahitton – Internist
Experiences and Certifications:
Specialist in Internal Medicine, Autonomous University of Bucaramanga – UNAB
Physician, Autonomous University of Bucaramanga – UNAB
Young Researcher, Colciencias.
Physician, Ophthalmological Foundation of Santander, Carlos Ardila Lulle Clinic.
Book Your Appointment for Emergency Healthcare and Stem Cell Treatment in Floridablanca, Colombia
Book a consultation for stem cell treatment or emergency healthcare in Floridablanca, Colombia at Clinica FOSCAL! They offer a wide range of options for cancer treatment and emergency healthcare at an affordable price. PlacidWay can help you connect with Clinica FOSCAL! Contact us for more information: