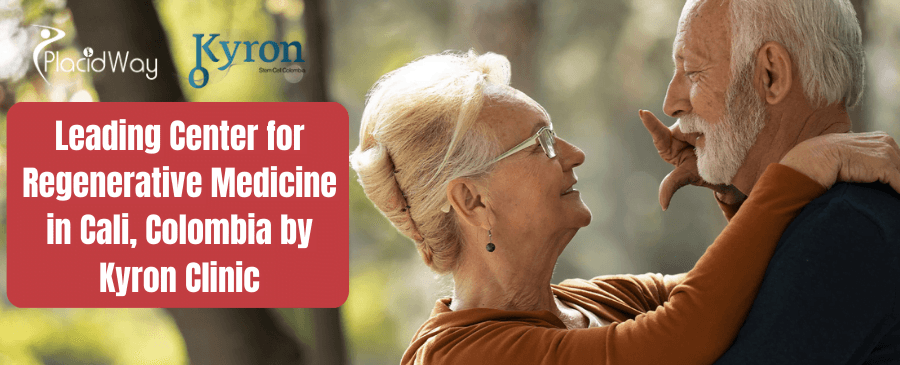 Stem Cells Kyron Colombia – Leading Center for Regenerative Medicine in Cali, Colombia
Stem Cells Kyron Colombia is the foremost center for regenerative medicine in Cali, Colombia, located at the Kyron Clinic. We offer state-of-the-art treatments and are recognized as leaders in the field. Our specialized focus lies in PRP (Platelet-Rich Plasma), Plasma Rich in Growth Factors, and Stem Cell therapy, particularly for addressing conditions such as Knee Osteoarthritis. Our approach is centered around personalized treatment plans, aiming to provide relief and enhanced well-being to our patients.
Stem Cells Kyron team comprises highly skilled professionals who possess extensive expertise in the realm of stem cells. Through a multidisciplinary approach, we are committed to the management and treatment of various diseases. Our core mission revolves around delivering the utmost quality of care, ensuring the complete satisfaction of our patients. Dr. Carlos Eduardo Rojas Martínez, an esteemed specialist in Regenerative Medicine with more than 20 years of experience, is one of our notable experts.
Dr. Rojas Martínez has garnered valuable experience from reputable institutions such as the Dr. Obyrne Clinic and the Prevenga Clinic, where he presently conducts private consultations. At Stem Cells Kyron Colombia, we strive to offer exceptional regenerative medicine services under the expert guidance of Dr. Rojas Martínez and our dedicated team of professionals. Our unwavering commitment to quality and patient satisfaction sets us apart as a trusted destination for individuals seeking effective and innovative treatments.
Expert Stem Cell Specialists
At our center, we are privileged to have a team of esteemed stem cell specialists, among them the highly regarded Dr. Carlos Eduardo Rojas Martinez MD. Dr. Martinez holds prestigious certifications from the Colombian Association of Ozone Therapy and possesses specialized expertise in various fields of regenerative medicine, including plasma-rich growth factors, stem cells, and prolotherapy. With his vast experience and profound knowledge, Dr. Martinez ensures that our patients receive individualized care and the most effective stem cell treatments tailored precisely to their unique requirements.
State-of-the-Art Technology
Stem Cells Kyron Colombia is a leading center for regenerative medicine that remains at the forefront of the field by utilizing state-of-the-art technology. Our advanced techniques and equipment enable us to effectively treat chronic degenerative diseases, address pain and sports injuries, and provide cutting-edge anti-aging therapies. By incorporating the latest advancements, we ensure the highest quality of care for our patients and offer innovative regenerative treatments that greatly enhance health outcomes.
Internationally Renowned Center
Stem Cells Kyron Colombia has achieved global acclaim as a prominent hub for stem cell therapy. Our unwavering commitment to excellence, pioneering research, and unparalleled patient care has established us as a trusted and sought-after destination for individuals seeking cutting-edge regenerative treatments. Located in Cali, Colombia, our center attracts patients from all corners of the world, who place their trust in us knowing they will receive world-class care and benefit from the expertise of our exceptionally skilled team. Our esteemed reputation as an internationally renowned center underscores our steadfast dedication to providing transformative stem cell therapies that instill hope and facilitate healing for patients spanning across continents.
Stem Cell Therapy Colombia Cost
| Procedure | Cost |
| --- | --- |
| Autism | $8000 |
| Multiple Sclerosis | $8000 |
| Cerebral Palsy | $8000 |
| ALS/MND | $8000 |
| Stroke | $8000 |
| Parkinson's Disease | $8000 |
| Alzheimer's Disease | $8000 |
| Crohn's Disease | $8000 |
| Osteoarthritis | $8000 |
| Rheumatoid Arthrities | $8000 |
| Sports/Knee Injury | $8000 |
| Liver Damage | $8000 |
| Diabetes | $8000 |
| Kidney Disorder | $8000 |
| COPD/Lung Diseases | $8000 |
| Orthopedics | $8000 |
Stem Cells Kyron in Cali, Colombia Treatments Offered
Stem Cells Kyron Colombia offers a wide range of specialized treatments tailored to individual needs. Here are some of the procedures available at our center in Cali, Colombia:
Platelet-Rich Plasma (PRP):
Platelet Rich Plasma or PRP stimulates collagen, elastin, and epidermal tissue production, resulting in smoother, brighter, and higher-quality skin. It is obtained from the patient's own blood through a centrifugation process.
Plasma Rich in Growth Factors:
This treatment utilizes a collection of proteins present in platelet-rich plasma to play a vital role in tissue repair and regeneration processes.
Range of Treatable Conditions: Stem Cells Kyron Colombia offers therapies for a diverse range of medical conditions, including:
Heart Disease: Stem cell therapies can be applied to treat various cardiovascular conditions, such as myocardial infarction (heart attack) and congestive heart failure.
Osteoarticular Diseases: Patients suffering from osteoarthritis, rheumatoid arthritis, and other musculoskeletal disorders can benefit from stem cell treatments that promote tissue regeneration and reduce inflammation.
Blood Diseases: Stem cell transplants can be used to treat conditions like leukemia, lymphoma, and certain anemias.
Skin Disorders: Skin conditions such as psoriasis, eczema, and vitiligo can be addressed using stem cell-based approaches for skin regeneration.
Liver Disorders: Stem cell therapies hold promise for patients with liver diseases, including cirrhosis and hepatitis.
Diabetes: Stem cell-based therapies may help manage diabetes and its complications by regenerating pancreatic cells.
Neurodegenerative Diseases: Conditions like Parkinson's disease, Alzheimer's disease, and multiple sclerosis can benefit from stem cell treatments aimed at slowing disease progression and enhancing neural repair.
Lung Diseases (COPD): Chronic obstructive pulmonary disease (COPD) patients may experience symptom relief and improved lung function through stem cell interventions.
Autoimmune Diseases: Disorders like rheumatoid arthritis, lupus, and Crohn's disease can be managed using immunomodulatory stem cell therapies.
Fragility and Aging: Stem cell therapies may be employed to address age-related degeneration, improve tissue function, and enhance overall vitality.
Aesthetic Medicine: Stem cell-based treatments can also be applied for aesthetic purposes, such as skin rejuvenation and hair restoration.
Stem Cells Doctors in Cali, Colombia at Kyron Clinic
Dr. Carlos Eduardo Rojas Martinez, MD, is an immensely experienced and skilled physician who plays a pivotal role at Stem Cells Kyron Colombia. Driven by a deep-rooted passion for regenerative medicine, he holds a multitude of certifications and possesses expertise across various fields. As a devoted specialist in the realm of stem cells, Dr. Rojas Martinez directs his efforts towards harnessing the potential of regenerative therapies, seeking to facilitate improvement and deliver groundbreaking solutions for patients.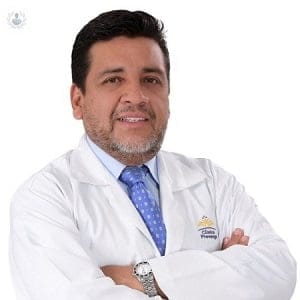 Dr. Carlos Eduardo Rojas Martinez, MD
• Colombian Association of Ozone Therapy (ACDO)
• Platelet-rich plasma physician
• Specialist in Plasma Rich in Growth Factors
• Specialist in stem cells
• Stem cell doctor specialist
• Doctor specializing in Prolotherapy
---
Regenerative Medicine in Cali, Colombia Testimonial from Real Patients
Michael

Your best solution… US! Don´t wait any longer to improve the condition of your health problems. Be have the solution to make the quality of your life ideal

Emily

The pain in my knee improved remarkably.
Stem Cells Kyron Colombia Certificate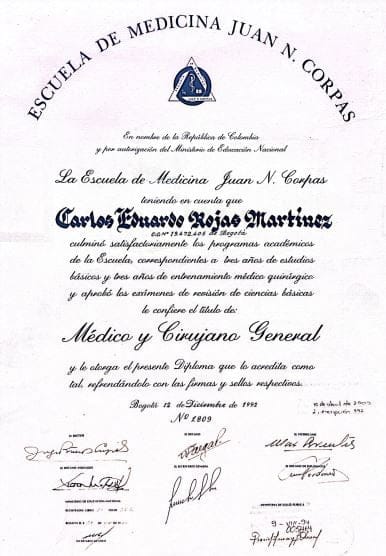 Medical Tourism Stem Cell Therapy in Cali Colombia
Cali, Colombia is renowned for its exceptional regenerative medicine offerings, making it an ideal destination for medical tourism. Beyond its medical expertise, the city also boasts captivating tourist attractions that enhance your experience. Here are some highlights to explore:
Historic District and Architecture:
Immerse yourself in Cali's historic district, where cobblestone streets lead you to well-preserved colonial buildings like the San Francisco Church and La Merced Church. The district's vibrant atmosphere offers charming cafes, local artisans, and a bustling market, providing a glimpse into the city's rich heritage.
Cali Zoo:
Nature lovers can indulge in the Cali Zoo, home to a diverse array of animal species, including endangered ones. Encounter lions, giraffes, monkeys, and vibrant birds as you explore the lush surroundings. The zoo's educational exhibits and engaging shows make it a family-friendly destination.
Cristo Rey:
A symbol of faith, Cristo Rey is a majestic statue perched atop a hill, offering panoramic views of Cali and its surroundings. Visitors can hike or drive up to the statue, immersing themselves in its serene ambiance while capturing breathtaking photographs.
Getting to Cali is convenient, thanks to multiple transportation options. The Alfonso Bonilla Aragón International Airport (CLO) receives direct flights from major cities in Colombia and international destinations, ensuring easy access to the city. Additionally, well-connected bus terminals provide domestic and international routes, allowing travelers to enjoy scenic countryside journeys at a budget-friendly price. Road trips are also possible, with major highways connecting Cali to different parts of Colombia, although it's important to familiarize yourself with local driving regulations.
Once in Cali, explore the city's attractions using various modes of local transportation, including taxis, buses, or rental cars. Cali's efficient public transportation system ensures easy navigation and enhances your regenerative medicine medical tourism journey, providing a seamless and enjoyable experience.
Get FREE QUOTE for Stem Cell Therapy in Colombia at PlacidWay!
Are you searching for an advanced stem cell therapy clinic in Cali, Colombia? Contact Stem Cells Kyron Colombia in Cali today through our customer representative at PlacidWay. Click the "Contact Us" button below to embark on your transformative regenerative journey.