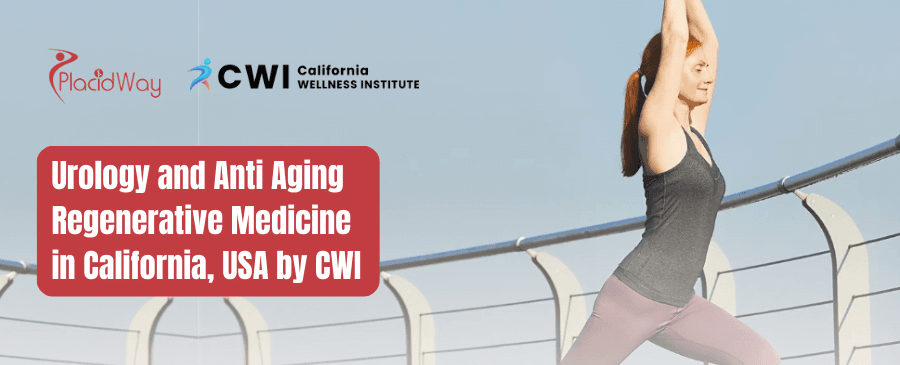 California Wellness Institute in Rancho Mirage, California, United States
Welcome to California Wellness Institute (CWI), your one-stop destination for holistic health and wellness. Our wide range of services encompasses body and mind transformation, chronic illness reversal, toxic drug-free solutions, sexual health enhancement, male and female genital enhancements, weight loss support, and innovative non-surgical alternatives for Prostate cancer using High-Intensity Focused Ultrasound (HiFU). We also specialize in BioIdentical hormone therapy. Our unwavering dedication is to provide comprehensive care for your overall well-being, ensuring your healthcare journey is convenient, efficient, and effective, all within our welcoming facility.
Pioneering Urology and Anti-Aging Regenerative Medicine at CWI
At California Wellness Institute, we take pride in our distinguished leader, Dr. E. Rajaratnam MD, FACS, ABAARM, a board-certified expert in Urology and Anti-Aging Regenerative Medicine. Dr. Rajaratnam's exceptional qualifications and unwavering commitment set the gold standard for patient care. Whether you're seeking cutting-edge urological treatments, advanced anti-aging therapies, or a combination of both, our dedicated team's extensive knowledge and dedication make us the ultimate partner in your journey towards optimal wellness.
Our team of medical experts is dedicated to staying at the forefront of healthcare innovations, constantly integrating the latest breakthroughs into our practice. Whether you require specialized urological care, personalized anti-aging regimens, or any other medical services, you can trust that we will provide you with the most advanced and effective solutions available in the field. At California Wellness Institute, your health and well-being are our top priorities, and we are here to guide you towards a healthier, more vibrant future.
Age-Defying Wellness: Transforming Anti-Aging Care and Urology Treatment
At California Wellness Institute, we are leading the charge in redefining the landscape of Anti-Aging Care and Urology Treatment. Our cutting-edge approaches and state-of-the-art therapies are poised to revolutionize your journey towards graceful aging and enduring well-being. We understand that genuine wellness extends beyond physical appearance to encompass how you feel, and our regenerative solutions are meticulously crafted to empower you to look and feel your absolute best. With our commitment to innovation and your pursuit of vitality, together, we're redefining what it means to age with grace and vitality.
Regenerative Medicine:
At California Wellness Institute, we harness the transformative potential of regenerative techniques, including regenerative medicine, platelet-rich plasma (PRP) treatments, and cutting-edge tissue engineering, to ignite a profound cellular revival within you. Whether you're in pursuit of chronic pain relief, aiming to optimize your health, or considering non-invasive alternatives to surgery, our Regenerative Medicine offerings are meticulously crafted to offer you secure and efficient solutions.
Female Sexual Enhancement
Medical Weight-loss Program for Women
Hair Restoration for Women
Laser Hair Removal for Women
Microneedling Facials for Women
CO2 Laser Skin Resurfacing for Women
Skin Tightening for Women
Laser Tattoo Removal
Body Sculpting for Women
Shockwave Therapy (EPAT)
IV Nutrition Therapy
Colon Hydrotherapy
Organ Detoxification Therapy
Regenerative Cell Therapy
Platelet Rich Plasma Therapy (PRP)
Urology:
With a team led by Dr. Rajaratnam, who holds board certification in Urology and exemplifies an unwavering commitment to patient well-being, we deliver a comprehensive spectrum of urological services. From the diagnosis and management of urinary tract infections to the execution of intricate surgical interventions, we leverage state-of-the-art medical technology to guarantee accurate diagnoses and implement the most effective treatment choices.
Urinary Tract Infection (UTI)
Kidney Stones
Anti-Aging Program
Weight-Loss Program
ONDAMED Biofeedback Therapy
Transurethral Microwave Thermotherapy (TUMT)
High-Intensity Focused Ultrasound (HIFU)
Bioidentical Hormone Replacement Therapy (BHRT)
Cutting-Edge Regenerative Medicine Solutions in United States
California Wellness Institute stands at the forefront of medical innovation, proudly offering state-of-the-art solutions to cater to a diverse spectrum of health and wellness requirements. Our unwavering commitment to remaining at the cutting edge of healthcare technology and treatments ensures that our patients benefit from the most advanced and effective medical solutions accessible today.
From cutting-edge diagnostic tools to groundbreaking treatment options, we spare no effort in acquiring the finest resources to deliver the highest level of care possible. At California Wellness Institute, we firmly believe that access to these pioneering medical solutions is indispensable for your overall well-being, and our steadfast dedication
Regenerative Medicine Doctor and Urology Specialist in California, United States
Allow us to introduce the exceptional team driving excellence at California Wellness Institute, where expertise meets compassion. Leading our team is Dr. E. Rajaratnam MD, FACS, ABAARM, a board-certified Urologist, and Carol Christian, a Regenerative Medicine Practitioner, both of whom bring a wealth of experience and commitment to Anti-Aging Regenerative Medicine.
Together with our accomplished urologists, dedicated aestheticians, skilled estheticians, and experienced physicians, we are united in our mission to provide you with personalized, top-tier care. Your well-being is our utmost priority, and our team is devoted to delivering the expertise, support, and compassion you deserve, setting the standard for Urology and Regenerative Medicine in the United States.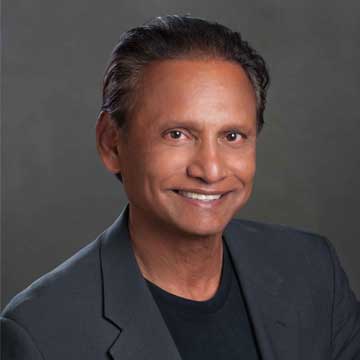 Dr. E. Rajaratnam MD, FACS, ABAARM
Experiences and Educations:
Board-certified in urology and anti-aging and regenerative medicine.
Medical degree from Stanley Medical College in Chennai, India.
Completed internship at Coney Island Hospital, New York City.
General surgical residency at Brookdale University Hospital Medical Center.
Urology training at Maimonides Medical Center.
Board certification from the American Academy of Anti-Aging and Regenerative Medicine (A4M) in 2007.
Established successful urological practice in California.
Founder and Medical Director of the California Wellness Institute.
Emphasis on holistic and preventive medicine.
Active pilot, photographer, and video producer.
Founder of the Rajaratnam Foundation, a nonprofit supporting underprivileged children.
Hosts the television program "Life and How to Live It
---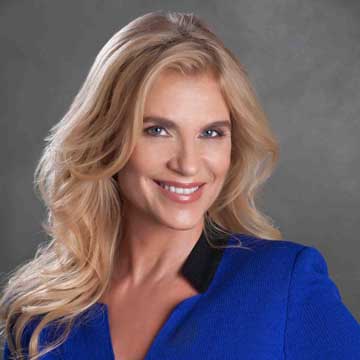 Carol Christian
Experiences and Educations:
Position: Managing Director & Regenerative Medicine Practitioner
Began nursing career under a urologist in Anchorage, Alaska.
Transitioned to holistic healthcare, gaining certifications in alternative therapies.
Manages California Wellness Institute, focusing on patient wellness.
With 30+ years of experience, specializes in weight loss, detox, and holistic treatments.
Encourages natural healing and joyful living.
Certified Colon Hydrotherapist for over 25 years.
Motivational weight-loss specialist.
Offers sexual enhancement and rejuvenation as a Clinical specialist in ThermiVa.
Certified in Ondamed Electromagnetic Pulse Therapy.
Trained in Germany under Dr. Sylvia Bender.
Mentors healthcare professionals globally and contributes to clinic development.
---
Regenerative Medicine in California, United States Real Patient Testimonial
Carol Christian brings wisdom, comprehensive knowledge, experience and a deep desire to help her clients achieve their health goals to her work as a colonic hydrotherapist at California Wellness Institute. Following several sessions with Carol, I'm still impressed by her understanding of the structure and function of the digestive system and of how to best utilize her services to aid in whole body cleansing and detoxification. Carol is that remarkable and very rare individual whose capacity for human connection and warmth as well as her generosity in sharing what she has learned over decades of study make her exemplary in her field, and this is why I wholeheartedly recommend working with with her if you have the opportunity. – Pina Kamolnick

Dr. Raj is an amazing doctor and is completely focused on my health and well being. I am currently under his care and have never felt better in my life! I fly all the way here from Seattle, because Dr. Raj offers what I feel is the best programs focused on my health goals. I would highly recommend the California Wellness Institute. – Jonathan Hall

Above and beyond expectations. I have always been concerned about my time in the sun and the consequences that come with it, I knew I needed this type of C02 Laser , so I am forever grateful to Carol and her awesome team of nurses. The entire process was explained from pre op to post op. With very minimal pain. Please do not go anywhere else. My skin so far looks absolutely flawless only after one week. I am also looking forward to feel beautiful on the inside too, IV therapy specially designed for me is my next appt.. beauty comes from within too, so I have heard. – Carla Miller

Great people, friendly, give personal advise & individual attention. Best office manager Frank, & Carol managing director & Julia esthetician. – Mo

The staff was wonderful, as soon as I walked in I was greeted with a friendly face. Check in process was easy and waiting area was very comfortable. Office was very clean and patient rooms were very spacious. I would recommend visiting the institute. – Adam Blattner
Medical Tourism in Rancho Mirage, California, United States
Nestled in the heart of California, Rancho Mirage is emerging as a prominent hub for medical tourism, offering world-class medical services amidst a backdrop of captivating tourist attractions. The city's unique blend of top-notch healthcare and leisure activities has transformed it into a prime destination for travelers seeking medical treatments. Visitors here have the opportunity to intertwine their healthcare journey with unforgettable vacations, creating a one-of-a-kind experience. Whether you're a golf enthusiast, a spa lover, or simply looking to bask in the year-round sunshine, Rancho Mirage caters to a diverse range of interests.
One of Rancho Mirage's standout features is its abundant sunshine, with an average of 350 days of sun annually. This natural abundance of light encourages outdoor activities, from hiking in the nearby San Jacinto Mountains to lounging by the pool at luxurious resorts. For golf enthusiasts, Rancho Mirage is a true paradise, boasting world-class golf courses that offer stunning desert and mountain vistas as a backdrop for your game. Additionally, the city's array of fine spas provides rejuvenating treatments and relaxation options, making it the perfect destination for post-procedure recovery.
Beyond leisure pursuits, Rancho Mirage offers a vibrant cultural and arts scene. Visitors can explore local art galleries or attend live performances at venues like the renowned McCallum Theatre. The city's accessibility further enhances its appeal to medical tourists. With the Palm Springs International Airport nearby, travelers can easily reach Rancho Mirage by air and continue their journey via taxi or rental car. Alternatively, accessible roadways like Interstate 10 and State Route 111 make it convenient for those driving from neighboring California cities. For those opting for public transportation, various bus lines and Amtrak train services provide alternative options.
In Rancho Mirage, medical tourists have discovered a unique blend of healthcare excellence and vacation bliss. As the city continues to gain popularity among those seeking both wellness and relaxation, it stands as a shining example of how a picturesque location and world-class medical services can harmoniously coexist, creating an unparalleled experience for travelers from around the world.
California Wellness Institute Certification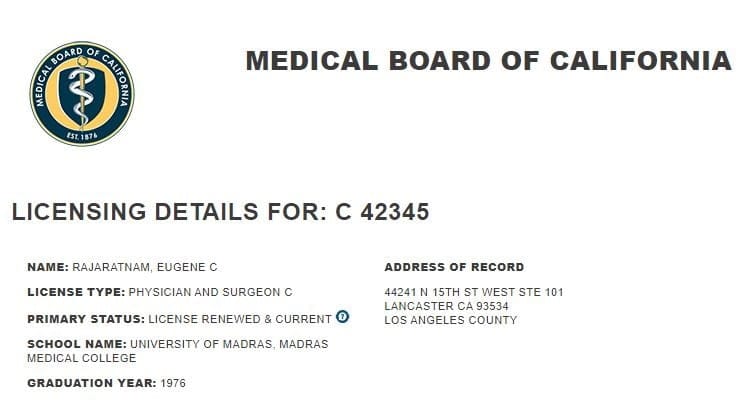 Frequently Asked Questions (FAQs) – California Wellness Institute
1. What Sets California Wellness Institute Apart?
California Wellness Institute stands out by offering a comprehensive approach to healthcare. We provide a wide array of services, including cutting-edge regenerative medicine and urology treatments. What sets us apart is our unwavering commitment to innovation, patient-centric care, and a team of highly skilled specialists. These factors combine to make us a trusted destination for individuals seeking holistic well-being and advanced medical solutions.
2. What Can I Expect During My First Visit?
During your initial visit to California Wellness Institute, you can anticipate a thorough evaluation by our medical professionals. This evaluation is designed to fully understand your specific needs and health goals. We will engage in a meaningful discussion about your treatment options, create a personalized plan, and address any questions or concerns you may have. Our goal is to ensure that you feel comfortable, well-informed, and empowered throughout your healthcare journey.
3. What Types of Anti-Aging Treatments Are Available?
California Wellness Institute offers a diverse range of anti-aging treatments tailored to meet your unique aesthetic and health goals. Our offerings include hormone replacement therapy, skin rejuvenation, and regenerative therapies aimed at promoting overall well-being. Our specialists customize these treatments to address your specific needs, ensuring you receive the most effective and personalized care.
4. Does California Wellness Institute Offer Financing Options?
Yes, we understand that healthcare costs can be a concern for many individuals. To make our services more accessible, California Wellness Institute provides financing options and flexible payment plans. Our dedicated financial team can provide you with detailed information and assist you in finding the most suitable payment solution to meet your specific needs.
5. Is California Wellness Institute Covered by Insurance?
Our acceptance of insurance plans may vary. We recommend contacting our office or visiting our website to access information regarding the insurance providers we work with and explore available payment options. Our knowledgeable staff is also available to assist you in understanding your insurance coverage and addressing any related inquiries.
6. Are There Age Restrictions for Patients?
No, there are no specific age restrictions at California Wellness Institute. We welcome patients of all ages who seek our specialized services, whether it's addressing urological concerns, exploring anti-aging therapies, or seeking regenerative medicine treatments. Our dedicated team is here to provide expert care to individuals across the age spectrum.
7. How Can I Schedule an Appointment?
To schedule an appointment at California Wellness Institute, please contact our customer representative at PlacidWay Medical Tourism. Our staff will assist you in finding a suitable appointment time. Wait times for consultations may vary depending on the nature of your visit, but we strive to accommodate your needs promptly. To initiate the appointment scheduling process, click the "Contact Us" button below.