Stem Cell Clinic in Tijuana, Mexico by Immunity Therapy Center
Located in the vibrant heart of Tijuana, Mexico, the Immunity Therapy Center (ITC) is a pioneering stem cell clinic that leads the way in the field of stem cell therapy and alternative medicine. Our commitment to patient care goes above and beyond conventional medical practices, with a particular focus on empowering individuals in their fight against serious diseases, especially cancer. At ITC's state-of-the-art facility, we take a comprehensive approach to treatment by combining stem cell therapy with natural, non-invasive methods that leverage the body's own immune system to combat malignancies.
Beyond being a medical institution, we prioritize creating a compassionate and respectful environment. Our experienced team of doctors and staff, who collectively possess over two decades of expertise in alternative medicine, cancer care, and natural cancer therapy, consistently goes the extra mile to provide exceptional treatment and support to each patient. ITC's dedication extends not only to healing bodies but also to nurturing spirits, ensuring that hope and resilience thrive alongside cutting-edge medical advancements.
Committed to Your Wellbeing
Operating under the watchful eye of the Federal Commission for the Protection against Sanitary Risk (COFEPRIS), we go to great lengths to ensure that our treatments meet the most stringent safety and efficacy standards. Our unwavering dedication to the wellbeing of our patients is at the core of everything we do. Through groundbreaking regenerative medicine and a wide range of alternative therapies, we serve as a guiding light, steering patients toward a brighter and healthier future.
Immunity Therapy Center's Customized Treatment Plans in Tijuana, Mexico
At our institution, we take immense pride in offering a diverse range of specialized stem cell therapies, meticulously tailored to address various medical conditions.
Stem Cell Therapy for Cancer: Our cutting-edge approach to cancer treatment aims to combat this relentless adversary by harnessing the regenerative power of stem cells.
Stem Cell Therapy for Chronic Degenerative Disease: We offer specialized treatments for chronic degenerative conditions, utilizing stem cells to promote tissue repair and improve quality of life.
Stem Cell Therapy for Autoimmune Disease: Our therapies are designed to modulate the immune system and reduce autoimmune responses, providing relief to those suffering from autoimmune disorders.
Stem Cell Therapy for Infectious Disease: In the fight against infectious diseases, our treatments focus on enhancing the body's natural defense mechanisms through stem cell interventions.
A Holistic Approach to Healing
With over two decades of experience in alternative medicine and natural cancer therapy using regenerative medicine, ITC is deeply entrenched in the pursuit of holistic healing. To uphold our commitment to top-tier care, we consciously limit the number of patients we accept, guaranteeing each person receives the utmost attention and the highest level of personalized treatment. Our pledge to patients remains steadfast: we aim to promptly alleviate symptoms and avert complications, ensuring a healing journey characterized by diligence and excellence.
Highly Qualified Regenerative Medicine Specialists in Tijuana, Mexico
At the heart of our institution lie the exceptional regenerative medicine specialists who steer our mission towards healing in Tijuana, Mexico. Dr. Carlos Bautista, the visionary founder of ITC in 2007, embodies our commitment to a healthcare paradigm rooted in patient-centric care and the utilization of potent and natural alternative cancer treatments. His unwavering dedication to pioneering holistic healing has set the standard for our entire team, ensuring that every patient who walks through our doors receives the highest level of personalized and effective care possible.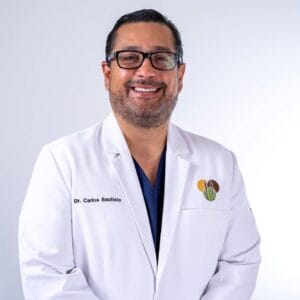 Dr. Carlos Bautista, M.D. – Medical Director
As the visionary founder of Immunity Therapy Center, Dr. Bautista is at the forefront of our mission to provide patient-centric care rooted in holistic healing. With over a decade of experience, he leads our team in delivering personalized and effective treatment plans.
---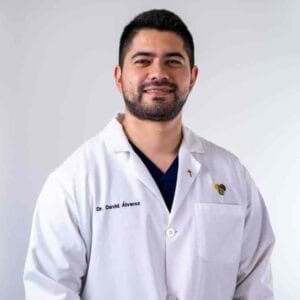 Dr. David Alvarez, M.D. – Treating Physician
Dr. Alvarez is a dedicated treating physician who brings his expertise to every patient's journey towards healing. His commitment to compassionate care and holistic treatments is integral to our approach.
---
Dr. Adolfo Carrillo, M.D. – Treating Physician
Dr. Carrillo's medical expertise and patient-focused approach make him an invaluable member of our team. He is dedicated to providing effective and personalized treatment plans for our patients.
---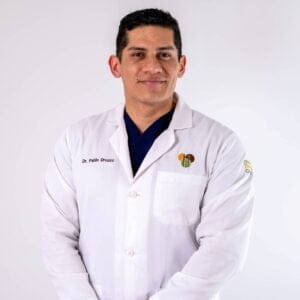 Dr. Pablo Orozco, M.D. – Treating Physician
Dr. Orozco is another skilled treating physician at ITC, known for his commitment to holistic healing and delivering tailored treatment options to our patients.
---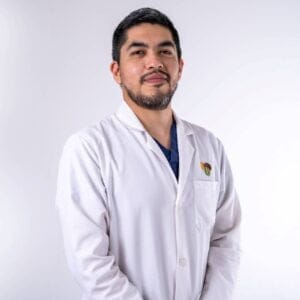 Dr. Javier Rivera, M.D. – Treating Physician
Dr. Rivera's dedication to patient care and extensive medical knowledge make him an essential part of our team. He plays a crucial role in crafting personalized treatment plans for our patients.
---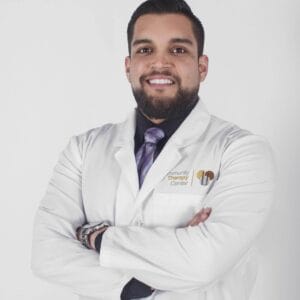 Dr. Giovany Montes de Oca, DMD. – Biological Dentist
Dr. Montes de Oca specializes in biological dentistry, addressing the crucial link between oral health and overall well-being. His expertise ensures that our patients receive comprehensive care during their healing journey.
Our team at Immunity Therapy Center is committed to providing the highest quality of care and personalized treatment options to support your path to healing.
---
Stem Cell Therapy in Tijuana, Mexico by ITC Real Patient Testimonial
Karla Leonard – BREAST CANCER
Karla Leonard, from Riverside, CA, battled Stage IV metastatic breast cancer with unwavering determination. Despite her initial disbelief at her deteriorating health, she found hope in ITC. Choosing ITC for treatment in May 2013, Karla harbored high hopes. She pressed on despite her son's reservations.
From day one, ITC impressed her with excellent service and an uplifting atmosphere. Emphasizing the non-invasive nature of ITC's treatments and their commitment to results In her own words, "You will always know where you stand and where your condition stands."
After three weeks of treatment in Mexico, she went home and faithfully followed the home care health care plan, and before she knew it, her external tumors on the left side of her breast healed, marking a significant victory on her journey. Karla has since cast aside her oxygen tank and bid farewell to her wheelchair. Though challenges persist, she's regained her independence and the joy of breathing freely.
Troy Clark – PROSTATE CANCER
Troy Clark was diagnosed with Stage 3 Prostate Cancer back in 2018. After watching his father go through chemo and radiation therapy on three different occasions, Troy wanted to explore other options. Through a referral of a friend, he found Immunity Therapy Center.
"Everyone at ITC treats me with the utmost respect. What I get here from ITC, other people, and their experiences is just a great feeling overall."
After treatment from Immunity Therapy Center, Clark has been living cancer free for nearly 5 years.
Debbie Halper – LIVER CANCER
"The Immunity Therapy Center Saved My Life and I Hope they Can Help You Too"
On March 14th Debbie was diagnosed with a rare type of Ampullary and Liver Cancer. Her doctors told her that her diagnosis was essentially a death sentence.
After some extensive research, Debbie discovered ITC online and decided it was worth a shot. She started an alternative treatment for liver cancer at ITC on May 1st and was blown away by the amazing staff and their dedication to helping people with seemingly hopeless diagnoses.
After only just 6 weeks of treatment Debbie's Liver Cancer was completely gone! Because of this, her Oncologist in California was then able to put together a treatment plan to remove the Ampullary Cancer so she could get on with her life completely Cancer Free.
"Im here to tell you if you have Cancer and have been given a diagnoses that makes you feel like there is no hope, there is hope!"
Sadie Litosky – HODGKIN LYMPHOMA
Hailing from Calgary, Canada, Sadie Litosky's life took a turn when she was diagnosed with Stage 4 Hodgkin's Lymphoma at just 19 years old. In a few short months, this first-year university student went from having a minor neck lump to facing breathing difficulties and chest pains.
Sadie's mother tirelessly researched treatment options worldwide and discovered ITC. Initially skeptical, Sadie's outlook changed when she received a treatment plan designed to minimize harm to her body, a contrast to traditional treatments.
At ITC, Sadie found the therapies non-invasive and comparatively painless. Within two weeks, she felt the benefits: increased energy, relief from chest pain, and improved breathing. After three and a half months of treatment, Sadie achieved complete remission.
She praises ITC for its supportive community, amazing nurses, and caring doctors, highlighting Dr. Bautista's transparency. The positive environment and personalized care made her journey from fear to hope a reality. In Sadie's own words, "I was welcomed by everyone here, which was really nice, especially when I was scared."
Gabrielle Friscia – HODGKIN LYMPHOMA
Facing Stage III Hodgkin's Lymphoma, Gabrielle Friscia and her family sought comprehensive treatment within their country's borders. Unfortunately, their search came up short. By chance, it was Gabrielle's father who discovered the ITC just days after her diagnosis. Initially skeptical about pursuing treatment in Mexico, like any patient, they embarked on this medical journey.
The results were remarkable. Following her initial scan, Gabrielle's lymphoma exhibited astonishing shrinkage. From six neck spots, only two remained. A once 6.6 cm tumor on her neck was reduced to a mere 1.9 cm. Gabrielle praised ITC's staff for their genuine care and attentiveness, saying, "The staff did an amazing job here, not only connecting with you but also caring for you."
In Gabrielle's own words, the professionalism, attentiveness, and holistic approach of the ITC team were a transformative experience. Her story is a testament to the dedication that transcends borders, restoring hope and health to those who seek it most.
Exploring Medical Tourism for Stem Cell Therapy in Tijuana, Mexico: A Fusion of Healing and Leisure
Medical tourism has gained significant popularity in recent years, and Tijuana, Mexico, has emerged as a prominent destination for individuals seeking advanced medical treatments, particularly stem cell therapy. What sets Tijuana apart is its unique blend of cutting-edge medical facilities and a rich tapestry of tourist attractions. Here, we delve into the captivating world of medical tourism for stem cell therapy in Tijuana, highlighting top tourist attractions and convenient ways to get there.
Discovering Tijuana's Top Tourist Attractions
Tijuana boasts an array of captivating attractions that seamlessly blend with your medical journey. The Avenida Revolucion, often referred to as "Revu," offers a bustling marketplace where you can immerse yourself in vibrant street art, shop for artisanal crafts, and savor authentic Mexican cuisine. For those seeking cultural experiences, the Tijuana Cultural Center (CECUT) is a treasure trove of art exhibitions and live performances. Nature enthusiasts can explore the scenic beauty of Parque Morelos or take a short drive to Rosarito Beach for a tranquil seaside escape. Tijuana's culinary scene is equally enticing, with its world-famous tacos and craft breweries, making it a food lover's paradise.
Getting to Tijuana by Plane
The most convenient way to reach Tijuana for your medical tourism journey is by air. The city is served by the Tijuana International Airport (TIJ), also known as General Abelardo L. Rodríguez International Airport. It offers direct flights from several major U.S. cities, making it easily accessible for international patients seeking stem cell therapy. From the airport, you can arrange transportation to your medical facility and explore the city's attractions.
Other Transportation Options
Tijuana is well-connected to neighboring regions by various transportation modes. If you prefer overland travel, you can consider taking a bus from nearby U.S. cities or driving to Tijuana by car. Additionally, the city has a train station, making it accessible by train. Depending on your location and travel preferences, you can choose the mode of transportation that suits you best.
A Holistic Experience
Medical tourism in Tijuana, Mexico, isn't just about seeking advanced healthcare; it's an opportunity to blend your healing journey with memorable cultural experiences. As you embark on your quest for stem cell therapy, you can immerse yourself in the vibrant culture, delicious cuisine, and captivating sights that Tijuana has to offer. This fusion of healing and leisure ensures that your medical tourism experience is not only medically beneficial but also personally enriching and culturally fulfilling.
Recognitions and Awards Achieved by Immunity Therapy Center in Tijuana, Mexico
Over the years, Immunity Therapy Center in Tijuana, Mexico, has garnered numerous accolades and recognitions in the field of holistic healing and regenerative medicine. These prestigious awards are a testament to our unwavering commitment to providing exceptional patient-centric care and pioneering alternative cancer treatments. From industry honors for innovation to acknowledgments for our outstanding contributions to improving patient outcomes, our collection of awards reflects our dedication to excellence in healthcare.
These accolades further motivate our team to continue pushing the boundaries of holistic healing, ensuring that every patient who seeks our care experiences the highest level of personalized and effective treatment available. At Immunity Therapy Center, our mission is not only to heal but also to lead by example, setting the standard for excellence in regenerative medicine and alternative therapies.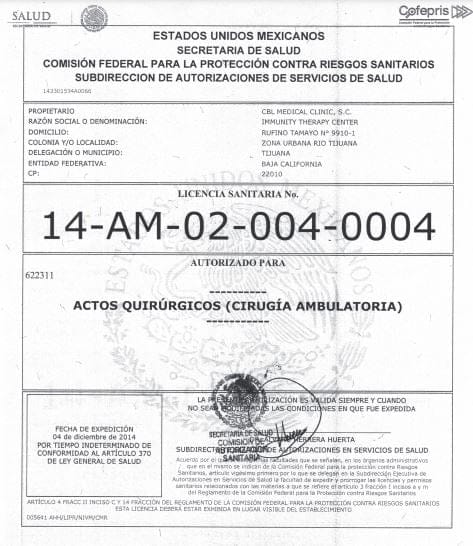 Frequently Asked Questions (FAQs)
1. What is Immunity Therapy Center, and where is it located in Tijuana, Mexico?
Immunity Therapy Center is a renowned establishment located in the vibrant city of Tijuana, Mexico. We specialize in cutting-edge stem cell therapy and alternative medicine. Our center is strategically situated in a serene and supportive environment, ensuring a peaceful experience for patients seeking holistic healing.
2. Which medical conditions does Immunity Therapy Center treat using stem cell therapy?
At Immunity Therapy Center, we offer stem cell therapy as a treatment option for a wide spectrum of conditions. These encompass cancer, chronic degenerative diseases, autoimmune disorders, and infectious diseases. Our commitment is to create personalized treatment plans tailored to address the unique needs of each patient.
3. Who are the experts behind the stem cell therapy treatments at Immunity Therapy Center?
Our team of regenerative medicine specialists includes seasoned physicians such as Dr. Carlos Bautista, Dr. David Alvarez-Tostado, Dr. Adolfo Carrillo, and Dr. Pablo Orozco. These dedicated professionals prioritize patient-centric care and employ effective, natural alternative treatments in their healing approaches.
4. What distinguishes Immunity Therapy Center's healing approach as holistic?
Our holistic approach seamlessly integrates stem cell therapy with non-invasive, natural treatments designed to bolster the body's immune system. We place a strong emphasis on personalized care and intentionally limit patient intake to ensure attentive treatment and swift symptom relief.
5. Can international patients access treatments at Immunity Therapy Center?
Absolutely. We warmly welcome international patients in search of stem cell therapy and alternative medicine solutions. To initiate the treatment process, you can connect with PlacidWay Medical Tourism, our trusted partner specializing in medical travel arrangements.
6. What amenities and facilities can patients expect at Immunity Therapy Center in Tijuana?
Our modern facilities are thoughtfully equipped with state-of-the-art medical technology, offering a comfortable and secure environment for patients. Our aim is to provide a nurturing setting that complements our holistic healing approach.
7. How can I commence my journey with Immunity Therapy Center and its stem cell therapy treatments?
To embark on your healing journey with us, you can easily reach out to our dedicated team through our website. Additionally, for assistance with booking, travel arrangements, and other logistical details, you can contact PlacidWay Medical Tourism, our trusted partner. Rest assured, we are here to support you every step of the way. Click the "Contact Us" button below to get started.