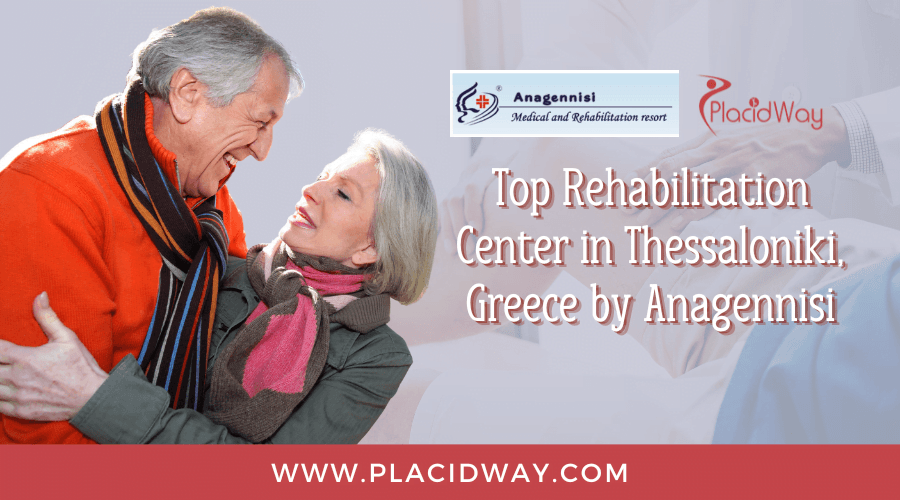 Stem Cell Therapy at Anagennisi Recovery and Rehabilitation Centre in Thessaloniki, Greece
Anagennisi is the best medical center that offers regenerative therapy in Greece. The hospital is located in the city of Thessaloniki, and it was founded by a team of dedicated professionals who have been researching and developing regenerative therapies for more than ten years.
Our mission at Anagennisi is to provide our patients with the best possible care and treatment using the latest technology and techniques for regenerative therapies. We are proud to offer treatments in a wide range of medical disciplines, including stem cell therapy, gene therapy, immunotherapy and much more!
At Anagennisi, we understand that every patient is unique and deserves an individualized approach to their medical care. Our team is committed to providing our patients with a comprehensive diagnosis and individualized treatment plan that is tailored to their specific needs. We are dedicated to providing our patients with the highest quality care, comfort and safety.
We also strive to ensure that every patient receives the best available treatments in terms of cost and efficacy. Our goal is to provide our patients with life-saving treatments that can help them achieve long-term health and wellbeing. Connect with us today and start your journey for healthy life and improvement!
Advantages of Regenerative Treatments in Thessaloniki, Greece by Anagennisi Center
Highly qualified regenerative therapy spescialists
Access to the latest technology
Wide variety of treatments and therapies available
Safe environment with strict adherence to safety protocols
Innovative approach to patient care
Comprehensive approach to healing with a focus on both physical and mental health
Holistic approach to treatment with personalized care plans for each individual patient
Access to the latest research and development in regenerative medicine
Access to a global network of specialists
Cost of Stem Cell Treatments in Thessaloniki, Greece at Anagennisi
Get the latest information about the cost of stem cell treatments at the Anagennisi Regenerative Therapy Hospital in Thessaloniki, Greece. You can also find everything you need to know about cost-effective stem cell therapy packages available. Click link in the descriptions for more information

Best Regenerative Therapy Doctors in Thessaloniki, Greece at Anagennisi Center
Check below for more information about top regenerative therapy specialists in Thessaloniki, Greece by Anagennisi Clinic:
Awards Received by Anagennisi Recovery and Rehabilitation Center in Thessaloniki, Greece
Here are awards received by Anagennisi Recovery and Rehabilitation Center in Thessaloniki, Greece: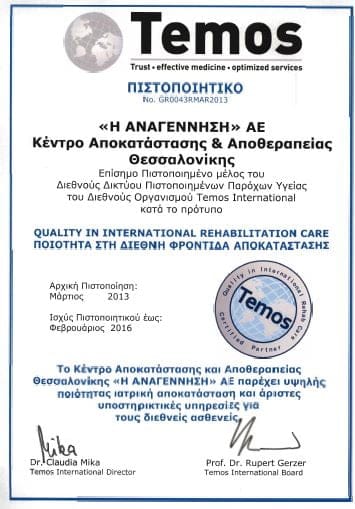 Why Choose Regenerative Therapy in Thessaloniki, Greece?
Thessaloniki, Greece is the best destination for regenerative therapy. It has some of the world's best medical facilities and experienced medical specialists who are able to provide the highest quality regenerative treatments. The country's Mediterranean climate is also ideal for recovery and healing, as the mix of sunshine, salt and sea air all help to speed up the recovery process.
Additionally, Greece's clean and environmentally-friendly environment is beneficial for healing as well. Furthermore, Greece is a very affordable destination for regenerative therapy. The cost of the treatment and associated expenses are lower in Greece than they are in other countries, making it an attractive option for those looking to save money on their medical care.
Treatments and Procedures Offered by Anagennisi in Thessaloniki, Greece
Here are treatments and procedures offered by Anagennisi Hospital in Thessaloniki, Greece:
Regenerative Therapy
Physical Therapy
Hydrotherapy
Therapeutic Exercise
Occupational Therapy
Speech Therapy
Electrotherapy
Magnitotherapy
Thermotherapy
Balance and Coordination Therapy
Snoezelen Therapy
Sport Rehabilitation
Nutritional Monitoring
Regenerative Treatments in Thessaloniki Reviews from Real Patients
Check below for information about testimonials from real patients after getting regenerative treatments in Thessaloniki, Greece at Anagennisi:
Xristos Karabatakis
"After 2nd total knee arthroplasty, I came for the 2nd time to the regeneration center. The operating room became a blue cross and then I came here for rehabilitation. Within 1 week I am functional again and autonomous in all daily activities. Very pleased with the staff who are polite and willing as well as the medical staff who showed interest. From treatments only physiotherapy was needed where I did them with Tolis who was incredible. Occupational therapy and speech therapy were evaluated but I did not do it due to my condition that I did not need .. happy easter."
Despoina Lerioti
"In March I was admitted to the rebirth due to amputation and from Polygyros I was here for rehabilitation. When I came, the first evaluation was made by the psychologist, occupational therapy, speech therapy and physiotherapy. We set goals and started the recovery program. With the doctors and nurses all right, we did not have any problems, several people checked me and I had a steady course. The food is quite good, it is to my taste. A small detail that due to covenants there are strict protocols and I had a problem with my companions as well. There is understanding but it is generally difficult due to the weather. Taking stock I would say it was a good experience with good staff behavior. Special thanks to Kostas my physiotherapist."
Konstantina Dimitriadou
"On January 24th I was admitted by blue cross due to covid myopathy. I came because of distance, and swimming pool in the renaissance. Initial clinical picture, I had little movement in my hands and head and so on. I was completely dependent in all activities. I was admitted to the midfield where I stayed for 2 weeks and then was transferred to the wing on the ground floor where I was discharged. In my personal opinion and experience the physiotherapy and occupational therapy department were impeccable in everything both on the unit and on the ward. There is a shortage of staff in the field of nursing. Food average for my taste. Swimming pool very good, excellent in all of them. Cleanliness correct. I would recommend it to anyone who needs physical and occupational therapy."
Eva Koroveshi
"Due to myopathy and instability I came to the center. Now I am completely well and ready to go home. In ward 1a where I was, everything was fine. Hospitality, treatment all beautiful. Markos especially my physical therapist strict but super. Clean center and delicious food. Thank you."
FAQ about Stem Cell Therapy in Thessaloniki, Greece
Q: What is stem cell therapy?
A: Stem cell therapy is a form of regenerative medicine that uses stem cells to repair, replace or regenerate damaged tissue or organs. Stem cells are unspecialized cells that can differentiate into specific cell types and can be used for tissue regeneration and repair, for organ transplantation, and for the treatment of various diseases such as diabetes, heart disease and cancer.
Q: What types of stem cells are used in Thessaloniki, Greece?
A: In Thessaloniki, Greece, typically adult stem cells or umbilical cord stem cells are used in stem cell therapy. Adult stem cells are harvested from a person's own body, such as bone marrow and fat tissue, while umbilical cord stem cells come from the umbilical cord of newborn babies.
Q: What diseases can be treated with stem cell therapy?
A: Stem cell therapy has been used to treat a variety of disorders, including Parkinson's disease, diabetes, heart disease, spinal cord injuries, cancer and autoimmune diseases.
Q: Who is eligible for stem cell therapy?
A: Stem cell therapy is generally recommended for patients who have exhausted all other treatment methods or whose condition is not responding well to traditional treatments. Each individual case is evaluated on its own merits and medical history, so it is important to speak to a healthcare professional about your specific situation.
Get FREE CONSULTATION for Regenerative Treatments in Thessaloniki, Greece at PlacidWay!
Now you can benefit from regenerative treatment in Thessaloniki, Greece with PlacidWay! We offer free consultation when you book an appointment with one of our preferred regenerative therapy clinic. Our customer representative will provide you with the best possible treatment plan for your specific condition at an affordable cost. Click contact us button below to get started!