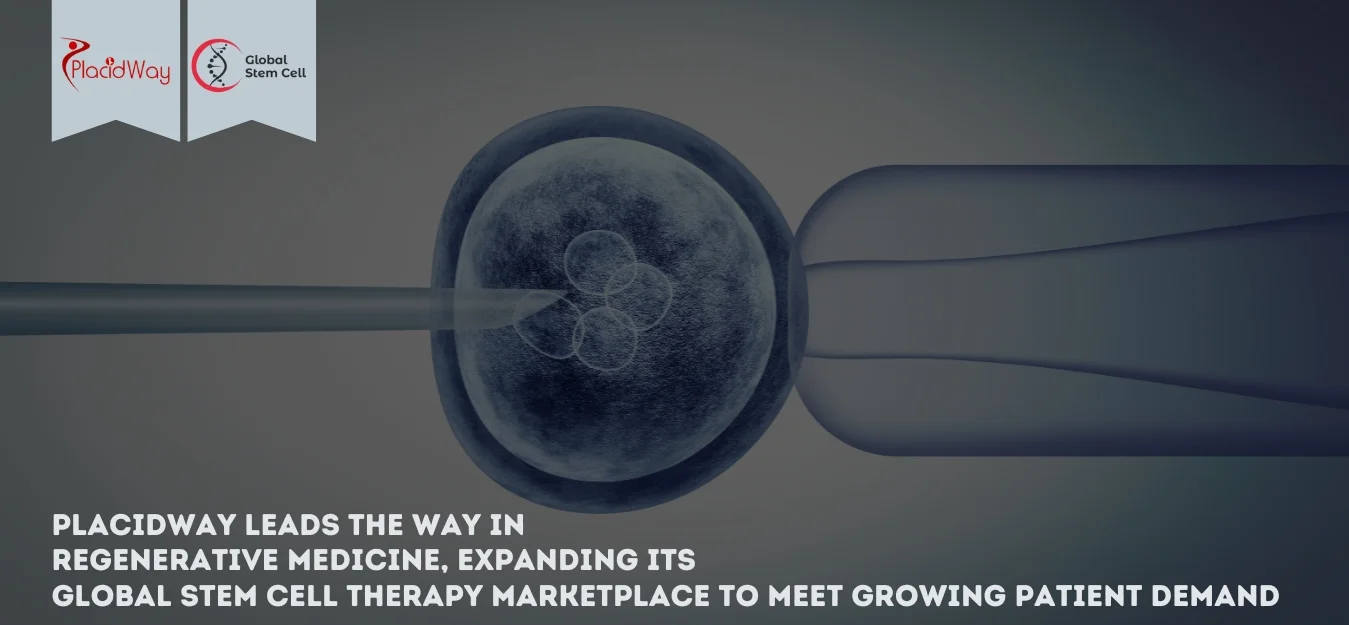 Denver, CO – PlacidWay, a global leader in medical tourism, is proud to announce the expansion of its global stem cell therapy marketplace in response to growing patient demand for regenerative medicine treatments. The company's extensive network of regenerative medicine clinics and hospitals worldwide provides patients with access to the latest and most innovative treatments in regenerative medicine.
Regenerative medicine has revolutionized the medical industry by offering patients the potential for significant improvement in a variety of conditions, including orthopedic issues, neurological disorders, and autoimmune diseases. PlacidWay's expanded marketplace offers patients a range of regenerative medicine treatments, including mesenchymal stem cells, embryonic stem cells, and induced pluripotent stem cells.
"PlacidWay is committed to providing our patients with the most advanced regenerative medicine treatments available, and we are proud to lead the way in this field," said Pramod Goel, CEO and Founder of PlacidWay.
"With our expanded global stem cell therapy marketplace, we can meet the growing demand for regenerative medicine treatments and provide patients with access to cutting-edge therapies that can improve their quality of life."
PlacidWay's expert team of medical professionals provides personalized assistance to patients throughout the treatment process, ensuring that they receive top-notch care from start to finish. With the company's expanded marketplace, patients can choose from a wider range of regenerative medicine treatments and providers, allowing them to find the best possible care for their specific needs.
"We are constantly adding new stem cell clinics and hospitals to our network, and our partnerships with leading regenerative medicine providers ensure that our patients receive the highest quality care," said Goel.
"At PlacidWay, we are committed to staying at the forefront of regenerative medicine and providing our patients with the best possible treatments."
To learn more about PlacidWay's expanded global stem cell therapy marketplace and its regenerative medicine offerings, visit their website at www.placidway.com and https://globalstemcelltherapy.com/.
About PlacidWay
PlacidWay is a leading global medical tourism platform that offers patients access to high-quality and affordable medical care across the world. With a vast network of top-rated clinics and hospitals spanning over 50 countries, PlacidWay empowers patients to make informed decisions by presenting them with a wide range of options that meet their budget, treatment preferences, and preferred destination. The platform offers increased flexibility and personalized assistance throughout the medical tourism journey. For more information, visit www.placidway.com.
Disclaimer:
The information provided in this press release is for general informational purposes only and does not constitute medical advice. Regenerative medicine, including stem cell therapy, is a rapidly evolving field and the safety and efficacy of these treatments may vary depending on the specific therapy and patient. Patients should consult with their healthcare provider before pursuing any regenerative medicine treatment, including stem cell therapy. It is important to note that regenerative medicine therapies, including stem cell treatments, have not been evaluated by the U.S. Food and Drug Administration (FDA) and are not currently FDA-approved for the treatment of any specific condition. Patients should carefully consider the risks and benefits of any treatment before making a decision and should only receive treatment from qualified and licensed healthcare providers. PlacidWay is not responsible for any actions or outcomes resulting from the use of information contained in this press release.