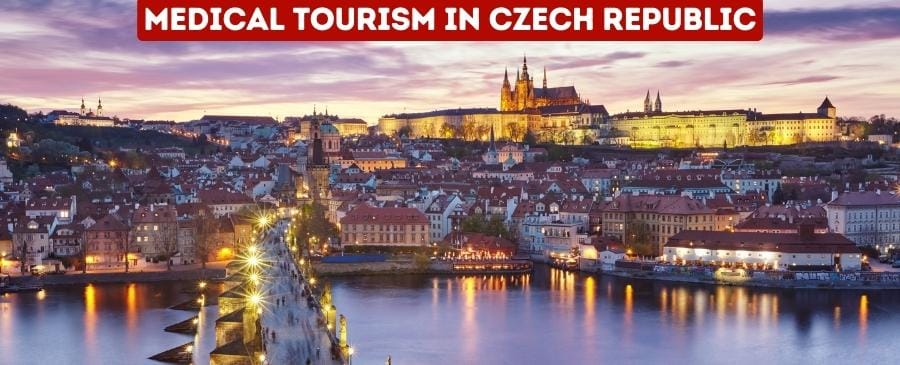 The Ultimate Guide to Medical Tourism in Czech Republic
Czech Republic is becoming increasingly popular for medical tourism in recent years. The country offers numerous health services, ranging from Regenerative Medicines and dental procedures to traditional treatments, at very competitive prices. Czech Republic is an ideal place for medical tourists due to its world-class medical facilities, skilled professionals and affordability.
Czech Republic's private healthcare sector is well developed, with a large number of specialists and accredited clinics offering high quality services at competitive prices.
Things to Know About Czech Republic
The Czech Republic is a small but beautiful country located in Central Europe. It has an incredibly rich culture and history, as well as many remarkable sights and attractions. Here are a few things to know about the Czech Republic:
Language – The official language of the Czech Republic is Czech, a member of the Slavic language family. If you'd like to explore the country and converse with locals, it's best to learn some basic Czech.
Currency – The currency of the Czech Republic is the Czech Koruna (CZK). Many larger stores and restaurants also accept Euros, but make sure you know what currency is accepted before spending.
Culture – Czech culture is deeply rooted in its history. Music, theater and literature are all important elements of Czech culture. The capital city of Prague is a major cultural center with many attractions and activities for visitors to enjoy.
Food – Czech cuisine is hearty and comforting, usually based on meat, potatoes and dumplings. Popular dishes include svickova na smetane (beef sirloin with cream sauce) and goulash.
Weather – The Czech Republic has a temperate climate, with warm summers and cold winters. The amount of rain varies by region, with eastern parts of the country receiving more precipitation than western regions.
Famous Destinations for Medical Tourism in Czech Republic
Czech Republic is home to many world-class hospitals and clinics offering a wide range of treatments. Here are some of the most famous destinations for medical tourism in Czech Republic
Prague – The capital of the Czech Republic and its largest city, Prague is home to a number of high quality medical facilities. From general practitioners and specialists to world-renowned research centers and hospitals, Prague has a wide range of medical services available.
Brno – Brno is the second largest city in the Czech Republic and home to numerous medical facilities, universities, and research institutes. It is known for its lively nightlife, excellent restaurants, and beautiful architecture.
Olomouc – Olomouc is a beautiful city in the Czech Republic that offers its visitors a range of activities. The city is famous for its baroque architecture, which can be seen throughout the vibrant streets and squares. There are numerous historical sites to explore.
No matter which city you choose, the Czech Republic is a great destination for medical tourists. With its world-class facilities and competitive prices, you can be sure to receive top-notch care while exploring this beautiful country. So, why not give Czech medical tourism a try.
Regenerative Medicine Treatment in Czech Republic
Regenerative medicine is a rapidly growing medical field that focuses on repairing, replacing or regenerating damaged tissue to restore function. Many of the treatments available in the Czech Republic use these cutting-edge technologies to help patients recover from a wide range of conditions.
The most popular regenerative medicine treatments available in the Czech Republic include stem cell therapy, platelet-rich plasma injections and prolotherapy. Stem cell therapy has been used to treat a variety of conditions, such as joint pain and arthritis. Platelet-rich plasma injections are popular for treating musculoskeletal injuries, while prolotherapy has been used to treat muscle and ligament injuries.
Regenerative Medicines Centers in Czech Republic
The Czech Republic has many world-class centers for regenerative medicine. The Charles University Hospital in Prague is one such facility, offering a range of treatments, including stem cell therapy and other advanced therapies. Here are the best regenerative medicine centers in Czech Republic.
How much does Stem Cell Therapy cost in Czech Republic?
The cost of stem cell therapy in the Czech Republic depends on a variety of factors, including the type of procedure, the clinic and any additional treatments. Generally, stem cell therapy typically costs around €5,000. However, some clinics may charge more or less depending on the complexity of the procedure. It is best to discuss the cost with your doctor before starting any treatment.
| Stem Cell Treatments | Costs in Czech Republic |
| --- | --- |
| Joints Regenerative Medicine | $4400 |
| Erectile Dysnfunction Regenerative Medicine | $7500 |
| Diabetes Regenerative Medicine | $9500 |
| Anti-Aging Regenerative Medicine | $5500 |
| ALS Regenerative Medicine | $10000 |
| Autism Regenerative Medicine | $9000 |
| COPD Regenerative Medicine | $9500 |
| Brain Injury Regenerative Medicine | $9500 |
| Multiple Sclerosis Regenerative Medicine | $9500 |
| Alzheimer's Regenerative Medicine | $11500 |
| Parkinson's Disease Regenerative Medicine | $13500 |
| Cancer Regenerative Medicine | $14500 |
How to visit Czech Republic for Medical Tourism?
Most travelers to the Czech Republic will need to obtain a visa before entering the country. The type of visa required depends on the purpose and length of stay in the country. For those traveling for medical tourism, the most popular types of visa are long-term visas or short-term visas.
Long-term visas are valid for up to 1 year and allow the traveler to stay in the country for extended periods of time. Short-term visas are usually valid for up to 90 days and are ideal for those looking to stay in the country for shorter periods of time.
No matter what type of visa you are looking for, the Czech Ministry of Foreign Affairs offers detailed information on how to apply for a visa. It is best to start your application process at least 3-4 weeks before your planned travel date.
For more information about regenerative medicines treatment in Czech Republic contact us today! We can help you find the best treatments at the most affordable prices so you can get the care you need in Czech Republic.