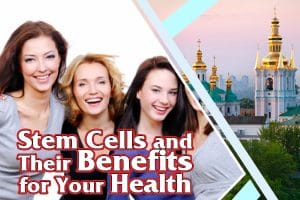 When it comes about about stem cell therapy, it's crucial to find the right clinic that suits your needs. Thousands of people are seeking for affordable, experienced clinics, within countries with a well developed healthcare system and a great medical research network. Stem cell therapy Ukraine is by far one of the most popular options among patients that are looking for experience, safety and decent prices.
Before going through the stem cell therapy Ukraine research process, you should know some basic information regarding stem cells, their types and their provenience.
The stem cells' isolation and cultivation methods were discovered back in 1998 and brought hope to a large number of researchers, doctors and patients worldwide. Specialists think that, in the future, the stem cell treatment will be able to cure serious conditions that are considered to be incurable today.
Stem cells are undifferentiated progenitors that have the ability to divide and develop into a plurality of other types of highly specialized cells, which are able to create tissues. In the future, they could be used to repair different specific structures, or to grow organs.
---
Depending on their capacity to replicate and differentiation potential, stem cells were classified as it follows:
Totipotent stem cells. They are produced by combining an oocyte with a spermatozoon and appear after the first divisions of the fertilized oocyte. They can differentiate into basically any cell type, and are able to form a placenta and a whole embryo.
Pluripotent stem cells. These are the totipotent stem cells' descendants and can differentiate into any types of cells, except for the totipotent ones. They are able to form cells derived from all the three germ layers (endoderm, mesoderm and ectoderm).
Multipotent stem cells. They are the cells that produce cells in a single family, progenitors of cells from different tissues. They have a huge recuperative potential, continuously renewing their cell population.
Unipotent stem cells. These can produce a single type of cells, but have the ability to renew – this aspect differentiates them from the non-stem cells.
The stem cell sources can be: the adult body, the embryonic cells, the cancer cells or the cells from the umbilical cord.
---
So, when you feel ready to make the first step, contact a trustworthy medical tourism company, which will provide you with all the information you need to know about stem cell therapy Ukraine. Also, you will be guided, in order to choose the clinic that best fits your needs.
[article image="https://globalstemcelltherapy.com/wp-content/uploads/2016/10/stem-cell-treatments8.jpg" published="10-25-2016″ modified="12-05-2016″]When it comes about about stem cell therapy, it's crucial to find the right clinic that suits your needs. Thousands of people are seeking for affordable, experienced clinics, within countries with a well developed healthcare system and a great medical research network.[/article]
[website][/website]
[organization][/organization]